NEWS
Report: 'Breaking Dawn' Cast Demand Higher Salary for Two Films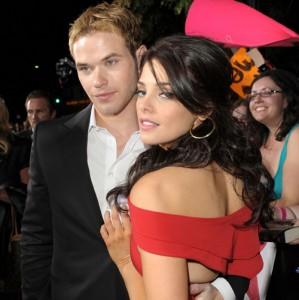 Article continues below advertisement
But it sounds like other stars are reaching agreements.
OK! NEWS: ROBERT PATTINSON SURPRISES ONE LUCKY FAMILY THANKS TO OPRAH
Robert Pattinson, Kristen Stewart and Taylor Lautner are reportedly in the final stage of making their apparently big pay-out deals and Peter Facinelli and Billy Burke are also said to have confirmed their deals.
Director Bill Condon is locked in for two films, shot back-to-back, and to be released November 2011 and Summer 2012.
OK! NEWS: TWILIGHT SAGA: ECLIPSE TICKETS ON SALE THURSDAY!
The real concern for Twi-hards is that the studio may decide to replace some cast members if negotiations aren't settled.
"We may have a situation where one of them is thrown out on the street to make a point," a source told THR.
As the film has grown in popularity so have the budgets and stars such as Ashley and Kellan are more in demand making a raise in pay understandable, THR reports.
Article continues below advertisement
OK! VIDEO: FINAL TWILIGHT SAGA: ECLIPSE TRAILER FINALLY ARRIVES!
The stars are on contract for the final film, but new deals have to be made if it's split into two. So, if an agreement can't be made financially, Summit could decide to make Breaking Dawn one film, replace the actors or, THR reports, the film could be shot in Louisiana instead of Vancouver for tax credits.
While Rachelle Lefevre was replaced by Bryce Dallas Howard, would you still want to see Twilight Saga: Eclipse if stars like Kellan and Ashley weren't in it?