NEWS
Charlie Sheen Admits Fault in Hockey Flare-Up: "I Need to Stop Being a Baby"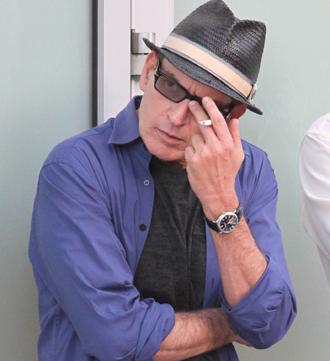 Article continues below advertisement
He was caught on camera cursing the woman out, who told the actor she had specific instructions not to allow patrons who leave the premise to return. The Staples Center has an on-site smoking area, she said.
"Have common sense and common courtesy gone in society? That was what I was trying to impress upon her, you know," Charlie told the paparazzi. "That's all. Let a guy back in a door he just walked out of. I mean, come on, you know."
The situation is understandably frustrating. Most of us have faced the wrath of a "no return" policy, but after Charlie cooled down he opened up to USA Today about how his behavior was out of line.
OK! NEWS: CHARLIE SHEEN WEEKEND TWEET ROUND-UP — ACTOR REACHES 3 MILLION FOLLOWERS!
"I should have just said, 'Hey, man. Have a nice day.' And walked away," he told the paper. "I've got to either not go to a place like that where I'm going to be a victim to my own short fuse or just go knowing that, hey, if there's things that get in the way of what I see as a perfect night, just let it flow. Stop being a baby."
Wow — that sounds so mature for Charlie. Is this method acting? He stars as a "nontraditional therapist specializing in anger management" on the FX series, premiering on June 28. Perhaps he lifted that line from the script?