NEWS
Charlie Sheen Charged on Three Counts for Domestic Spat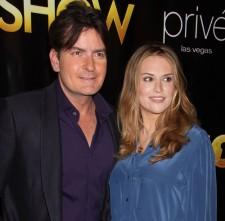 Both Charlie Sheen and wife Brooke Mueller arrived in court today in Aspen for Charlie's arraignment. The actor was charged on three counts, one for felony menacing and two misdemeanors — third degree assault and criminal mischief, TMZ reports.
The judge agreed to release the protective order preventing Charlie from contacting Brooke, TMZ reports.
Charlie did not enter aplea. The next court date is in March.
Article continues below advertisement
OK! NEWS: CHARLIE SHEEN TO BE CHARGED WITH FELONY
Brooke was taken to Sherman Oaks Hospital last week month with 105 F temperature and an infection in both lungs, after undergoing emergency surgery to have her wisdom teeth removed.
She was released from the hospital on Jan. 26. Her health condition pushed the court dates back until today.
Brooke called 911 on Christmas day last year and told police Charlie choked her and held a knife to her throat and threatened her. The alleged domestic spat led to a protective order and felony charges against the actor.