NEWS
Charlie Sheen Doesn't Believe in Rehab, Wants to be a Full-Time Dad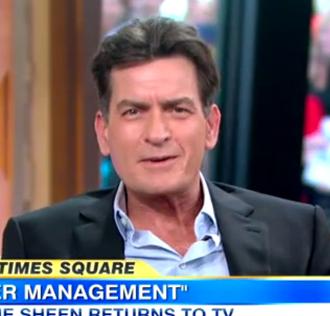 Article continues below advertisement
When asked his biggest regret, he said "going too far" and if he could give advice to the Charlie of last March, he'd tell him to "grow a beard and head to Mexico."
While he plays an anger management counselor on his new show, what he learned from years of anger therapy himself is "you can always leave the room."
"It is odd to look at some of the clips and some of the stuff and think, 'Wow that was me, that was me. Wow,'" he said. "It's a crazy character study on some level that will hopefully be valuable in the future."
While he's off drugs and anti-rehab ("It's not for me. It's not for everyone. It's not a one-size-fits-all and it didn't fit me."), he still drinks.
OK! NEWS: CHARLIE SHEEN: "I CRACKED... I HAD A PSYCHOTIC BREAK"
"We live in a country where it's always "Miller Time" so what are you going to do? It's happy hour somewhere in the world," he said smiling.
That being said, the father of five didn't want to discuss his custody arrangements with exes Denise Richards and Brooke Mueller, but did say he wanted to place more emphasis on being a dad, saying fatherhood is "the job that matters most."
Check out the full clip HERE.