NEWS
Charlie Sheen Loses Another Car to Cliff-Diving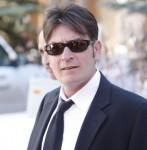 Maybe somebody ought to remind Charlie Sheen to do what we all do when leaving the house — check for keys and wallet! For the second time this year, the Two and a Half Men star has lost a car over a cliff after reportedly leaving the keys inside.
According to E! News, which cited a spokesman for the Los Angeles Police Department, the fire department responded to a call that came in around 2:50 a.m. about a Mercedes that had gone over a cliff along Mulholland Drive and came to rest 50 feet down.
Article continues below advertisement
"The vehicle was previously parked on his driveway the day before," explained the officer. "Obviously, someone took the car and ditched it off the cliff. There was no one inside the car and no suspect information. The vehicle was impounded."
As if Charlie doesn't have enough trouble these days!