NEWS
Charlie Sheen Tells Jimmy Fallon Why Anger Management Classes "Sucked"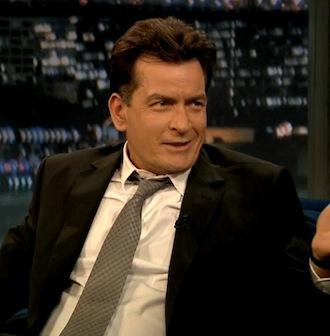 Charlie Sheen is bravely marching through his Anger Management/I'm-Not-Crazy-Anymore-Really media tour and swung by to chat with Jimmy Fallon last night about — what else? — how he's no longer nutso.
OK! NEWS: CHARLIE SHEEN: "I CRACKED... I HAD A PSYCHOTIC BREAK"
When Jimmy commented that his catchphrase "winning... duh" became part of the national lexicon, Charlie feigned confusion as to what he was even talking about at the time.
Article continues below advertisement
"I lost my children, my money, my job, my stature, my mind," he said. "What was I winning about?" He reflects about getting fired from Two and a Half Men and shooting a series of videos blasting his old boss and co-workers.
As art often imitates life, Charlie plays an anger management counselor on his new show and told Jimmy how much the court-ordered therapy "sucks."
"It's odd because you can only do one session per week," he says of the 52 weeks he had to complete. "That'll piss a guy off!"
OK! NEWS: CHARLIE SHEEN CAST IN MACHETE KILLS AS PRESIDENT OF THE UNITED STATES
So what did he learn from sitting in a counselor's office learning all about his rage for an entire year?
"They talk about counting to ten," he said. "So in that case I need to count my teeth. They talk about keeping it contained, and if it's about to go bad, just to leave the room."
Charlie's new show, Anger Management, debuts this Thursday at 9 p.m. on FX.
For old time's sake, let's check out Jimmy's brilliant turn as Charlie last year for a fictional cologne ad, Winning.