NEWS
Charlie Sheen Watches His "Funeral" on 'Two and a Half Men' Before His Roast!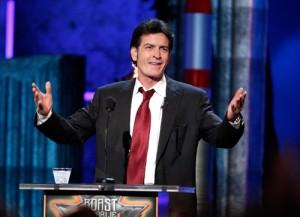 Even Charlie Sheen tuned into watch the Season 9 premiere of his former show Two and a Half Men — and even Tweeted about it! After a tumultuous final season which led to Charlie's dismissal from the hit CBS show earlier this year, it seems like the 45-year-old actor is making amends after his infamous media firestorm!
"Watching my funeral as my party gets rolling! Thank you @bucadibeppo for the great food!! Loving this night! ..." Charlie Tweeted last night, along with the below picture which shows his viewing party of Men and his roast!
Article continues below advertisement
The episode opened up with Charlie Harper's funeral, and his exes filled the pews heckling the deceased jingle writer for his infamous philandering ways with woman.
Ashton Kutcher debuted as the third man who will join Jon Cryer and Angus T. Jones in Charlie's Malibu beach pad, playing billionaire Walden Schmidt who is down on his luck.
At Sunday's live Emmy's broadcast, Charlie bonded with Ashton and wished the Men cast all the best for the upcoming season.
"From the bottom of my heart, I wish nothing but the best for this upcoming season," he said to the audience. "We spent eight wonderful years together, and I know you will continue to make great television."
Article continues below advertisement
As far as his roast on Comedy Central last night, they definitely did not spare Charlie from some hard-hitting jabs, but the actor handled it graciously.
"Thank you @comedycentral..! I'm moved... speechless and grateful! (and glad it's over...) Well done my friends. Well done! xo c" he Tweeted.
Charlie really seems to have made a turnaround. Are you happy for the star?
Do you think Men will foster or flop without him? Sound off in the comments.