NEWS
Charlize on Stuart Townsend: "He Made Me Softer"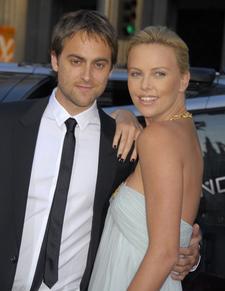 Charlize Theron and Stuart Townsend have been happily together for years, but the actress, 33, admits before she found Stuart, 35, weren't always easy.
She tells August's UK Elle, "He got through to me on a level that no one else did. Stuart made me softer. He was one of the few guys who wasn't afraid of me. What he saw was not toughness but vulnerability."
As for the reason she and her partner of seven years have yet to tie the knot, she says, "I want to know that I wake up every morning with him because I want to, not because a piece of paper says so."
Article continues below advertisement
Check out this week's OK! for the latest on other hot couples, including Mischa Barton and Rooney guitarist Taylor Locke; Jennifer Love Hewitt and fiancé Ross McCall; Rosario Dawson and DJ Mathieu "Mr. French" Schreyer and Katherine Heigl and husband Josh Kelley.