NEWS
Charlize Theron Says Kristen Stewart's "Lovely Quality" Is That She "Doesn't Give a F***"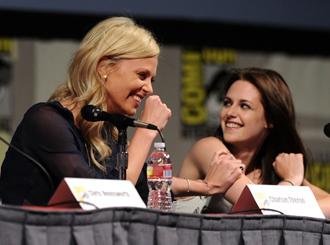 Charlize Theron may play an Evil Queen trying to destroy Kristen Stewart in Snow White and the Huntsman, but it sounds like the Academy Award-winning actress actually hit it off with the young Twilight star.
OK! NEWS: SNOW WHITE AND THE HUNTSMAN TRAILER RELEASED STARRING KRISTEN STEWART & CHARLIZE THERON!
In the new issue of Vogue, Charlize sympathizes with Kristen's fame.
"She just turned 21," Charlize told Vogue of Kristen. "She's a child. When I think about myself at 21, I had just done The Devil's Advocate, and Keanu Reeves had paparazzi following him and Al Pacino said this thing to me: 'If I knew that my life would be under this kind of scrutiny, I would have never become an actor.' And I thought, Wow. I couldn't comprehend it."
Article continues below advertisement
OK! NEWS: KRISTEN STEWART PUNCHED CHRIS HEMSWORTH IN THE FACE — "IT MADE SUCH A SOUND!"
While a lot of critics don't like Kristen's care-free personality in interviews, Charlize said it's her best quality.
"And Kristen is just living this to the max and still has a sense of humor about it," she continues. "There's this really lovely quality about her that just doesn't give a f***. A lot of people say they don't, but then they go home and cry and pop a Xanax. Kristen actually doesn't give a f***. That's what's so refreshing about her."
"I'm looking forward to killing her and taking her beauty," Charlize added. "That's what happens, right?"