NEWS
Chaz Bono Slams 'Dancing With the Stars' Judges for "Disrespectful" Criticism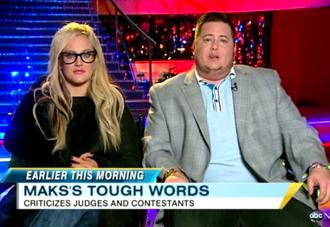 Chaz Bono feels he was mistreated by the judges on Dancing With the Stars. The latest castoff of the hit ABC reality competition opened up on Good Morning America, with pro partner Lacey Schwimmer at his side, about the critiques he received over his weight, the names he was called and why male and female contestants are treated different on the show.
VIDEO: WATCH CHAZ BONO'S EMOTIONAL JOURNEY ON DANCING WITH THE STARS
Article continues below advertisement
Chaz and Lacey's Phantom of the Opera-themed tango placed them at the bottom of the leader board with a 19 out of 30 from the judges on Monday night.
Bruno Tonioli took his comments a little too far, comparing Chaz to a penguin, a basketball and an Ewok from Return of the Jedi!
"I got a lot of references from him Judge Bruno Tonioli about things that would indicate the fact that I'm overweight, you know, a roundness. I was called a basketball, a penguin, an Ewok, and I just didn't appreciate it," Bono said today on GMA. "If you want to critique my dancing and give me some constructive advice so I can try to improve the next time that I'm there, that would be great. But I don't really know how to be less penguinish, and so I kind of took offense to that."
OK! NEWS: CHAZ BONO LEAVES DWTS & CHER TWEETS TEARS
Lacey said she takes issue with the judges' inconsistency.
"It's hard to take this competition seriously when the judges are so inconsistent," she said. "At the same time, we went out there and did what we needed to do and did it well and had a great time doing it."
Watch their interview HERE.