NEWS
Chaz Bono Would "Love to Talk" to Angelina Jolie & Brad Pitt About Shiloh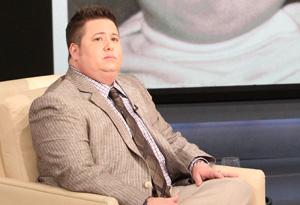 Cher's son, Chaz Bono, sat down with Oprah Winfrey to discuss his decision to become a man and says he's now focusing on lending his voice to the transgender movement. Chaz also revealed he'd like to talk to Angelina Jolie and Brad Pitt about their daughter Shiloh and the attention around her dressing boyish.
OK! NEWS: CHAZ BONO TELLS OPRAH WINFREY "THERE'S NO DOUBT" ABOUT CHER'S "LOVE FOR ME"
"I see myself as just somebody who's gone through the process," Chaz told Oprah about refusing to call himself a role model (via E! News). "For me, part of the way that I got through my fears is by reading books and seeing documentaries of people who transitioned before me. So I look at myself as one of those people who are just out in the community and the difference is that I just have a little bit of a larger reach."
Article continues below advertisement
And Chaz volunteers now for a support group for children with gender identity issues and their families.
"I relate to these kids," he said. "The difference between them and myself is that I didn't articulate it and fight for it and say, 'No, no, no! I'm a boy!' I have so much respect for these kids that do."
OK! NEWS: ANGELINA JOLIE — SHILOH ASKED IF SHE COULD HAVE "A DEAD PET"
And there is one family that has been in the media a lot who Chaz would love to talk to — Angelina and Brad.
"I would love to talk to them at some point," he admits, "to at least let them know we have this resource for them if they ever need it."
But Chaz does not know either of them and wouldn't assume anything about Shiloh's decision to dress more boyishly.
"People get too freaked out about kids and what to do with kids," he explained. "If you just let kids do what they need to do they usually have the right idea."