NEWS
Celebrity Chef Jason Roberts Whips Up Valentine's Day Sweet Treats For Chocolate Lovers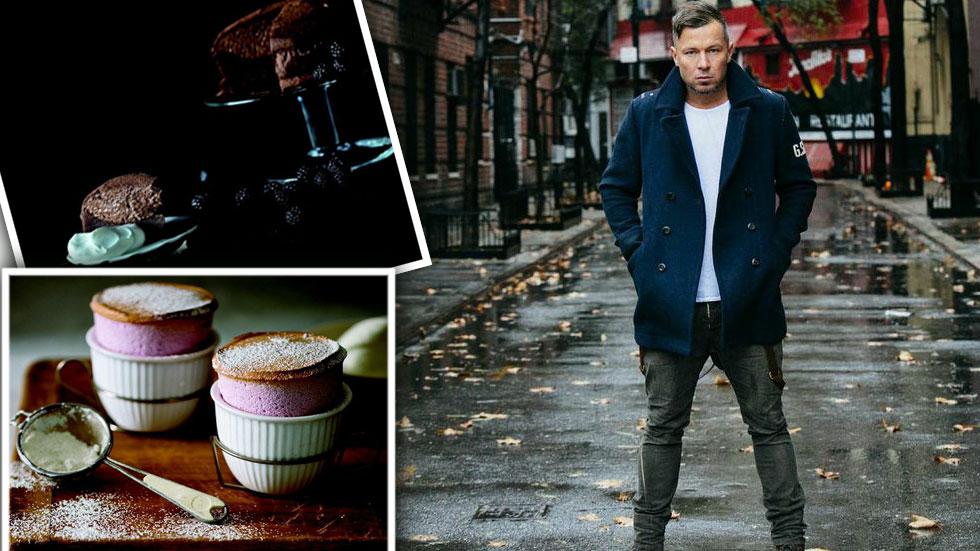 The Chew chef Jason Roberts is playing cupid in the kitchen.
The popular Aussie chef, who's also been a recurring face on the Rachael Ray Show, is sharing his out of the box chocolate (and raspberry!) recipes with OKMagazine.com that are sure to melt your paramour's heart this February 14.
Eve's Chocolate Cake
Eve's Chocolate Cake is one of the classic dessert dishes that never left the Bistro Moncur menu during my seven years there. It's a tried-and-true flourless chocolate cake that came from my good friend and mentor Damien Pignolet. (The name Eve refers to a friend and colleague of Damien's.) This is a very rich cake -- one that's usually reserved for special occasions. The better the chocolate you buy, the better the cake will be; if you can afford it, I highly recommend Valrhona chocolate. The trick with this recipe is that most things have to be ready at once.
Article continues below advertisement
SERVES 10
12 large eggs, separated (be careful not to get yolks in your whites)
1.8 ounces (50 grams) plus 2.1 ounces (60 grams) granulated sugar
12 ounces (340 grams) bittersweet dark chocolate
3.5 ounces (100 grams) unsalted butter
Pinch of salt
1/4 teaspoon cream of tartar
1 1⁄3 cups heavy cream
1/4 cup dark cocoa powder
1. Grease and line a 10-inch springform cake pan with parchment paper. Preheat the oven to 320°F (160°C).
2. With an electric mixer, beat the 12 egg yolks with 1.8 ounces (50 grams) sugar until it's almost white, approximately 5 minutes; the mixture should look creamy and velvety when it's finished.
3. In a separate bowl that's set over a pot of steaming (not boiling) water, melt the chocolate with the butter, stirring until the butter and chocolate are combined and the mixture is free of lumps.
4. In another large bowl, beat the 12 egg whites with a pinch of salt and cream of tartar until they have doubled in volume. At this point, gradually add 2.1 ounces (60 grams) sugar, a little at a time, while beating the egg whites until semifirm peaks form.
Article continues below advertisement
5. Mix the beaten yolks into the melted chocolate. Fold the egg whites, a third at a time, through the chocolate mixture, being careful not to knock all the air out of the whites while you're combining the ingredients.
6. Place two-thirds of the mixture into the prepared cake pan. Bake for 40 minutes in the preheated oven, or until a skewer pushed into the center comes out clean. Remove the cake from the oven, and invert it onto a cake rack to cool; you'll notice the cake will sink in the middle to create a well of sorts—don't worry: this is normal.
7. While the cake bakes, place the remaining chocolate mixture on the bottom shelf of your fridge to cool for approximately 1 hour.
Raspberry Soufflé
This is one of those impressive desserts that has a high wow factor. Soufflés were once a dreaded dessert among cooks, because many people experienced a high rate of disaster with them. Once you master this recipe, feel free to stake your claim as soufflé king or queen (I certainly have.) I love making this because it's gluten -- and fat – free, at least until I add a spoonful of freshly whipped cream to it. You can prepare these up to 6 hours in advance.
Article continues below advertisement
MAKES 8 (1-CUP) SOUFFLÉ MOLDS
Butter to grease the dishes
Sugar to dust the interior of the dishes
1 1/2 cups raspberry purée (approximately 2 small baskets of raspberries puréed)
1 cup sugar, divided
3 level tablespoons cornstarch
10.1 fluid ounces (300 ml) egg whites (approximately 10), free of any yolk
Pinch of cream of tartar
Confectioners' sugar, for dusting
Fresh whipped cream (optional)
1. Preheat the oven to 380°F (195°C).
2. Prepare each soufflé mold by lightly brushing the interiors with a thin layer of butter, adding the sugar, and coating evenly; discard any loose sugar. Set aside.
3. In a small saucepan, place two-thirds of the raspberry purée along with 1/2 cup sugar and set over a medium heat. Mix the remaining raspberry purée and the cornstarch with a wooden spoon, then add this to the heating purée and beat it with a whisk until it has thickened; continue to cook it for another 8–10 minutes over a low heat.
Article continues below advertisement
4. Place the mixture into a sieve and work it through, removing the seed content. Set it aside to cool.
5. Beat the egg whites to semifirm peaks, either by hand or with an electric mixer on medium speed. (Personally, I find the electric mixer very helpful.) While you're beating the egg whites, add the cream of tartar and continue to mix until it's well incorporated and fluffy (approximately 1 minute). Then increase the speed and slowly start to add the remaining 1/2 cup sugar, a little at a time. The egg whites should almost triple in volume and hold semifirm peaks.
6. Start incorporating the egg white mixture into the raspberry fruit base; this will need to be done in thirds. The first addition can be quite liberal but needs to be mixed well; the second addition of whites needs to be a little gentler, and the last third even gentler.
7. Fill each prepared mold to the top, leveling the mixture with a spatula and tapping the molds gently to remove any air bubbles. Run your thumb around the outside rim of the top of each soufflé mold to create a clear track for the soufflé to rise evenly.
8. At this point you can bake the soufflés or set them aside in the refrigerator (up to 6 hours) until you're ready to bake and serve them. Place the soufflés into the preheated 380°F oven and cook until they've risen by at least a third, approximately 8–10 minutes. Remove the soufflés from the oven, dust them with confectioners' sugar, and serve them with fresh whipped cream, if desired.
Bon Appétit and Happy Valentine's Day!