NEWS
Chelsea Handler on Her Break from Stand-Up: 'I'll Take Over For Meredith Vieira'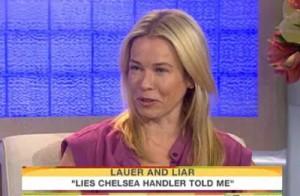 Article continues below advertisement
And in the comic's latest work the tables have turned as it is not told from Chelsea's point of you, rather her friends and family reminisce about their most humiliating experiences at her hands.
At one point last year, Chelsea's previous three books occupied spots one, two and three on the New York Times best sellers list.
"It's surprising that someone of my stature could have something like that happen to them," Chelsea shared.
So what does the practical jokester have planned for the future (her contract with Lately on E! is up in 2012)?
"I'm gonna come over here for Meredith," Chelsea quipped, followed by Matt informing her that Meredith's position had already been filled. "Oh sorry, I missed that part. I ignored it."
While she may not land a job at Today, Chelsea does want to take her career in a more serious direction.
"I like what I do, but I would like to honestly add some other layers to it. I love the book world," Chelsea shard. "I'd like to do more television, but obviously I'm growing up a little bit. I have to at some point."
"I would like to do some more serious stuff, but stay with the comedy," she added. "I think after I'm done with the Lies tour, I'm gonna take a break from stand-up for a while."
Catch the clip of Chelsea and Matt on TODAY below, and read an excerpt from Chelsea's new book, Lies That Chelsea Handler Told Me, HERE!