NEWS
Chelsea Handler: My BFFs Jennifer Aniston & Reese Witherspoon are "Down to Earth" Girls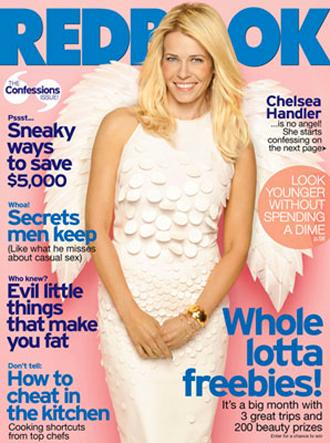 They may be superstar celebrities, but Chelsea Handler says her girlfriends Jennifer Aniston and Reese Witherspoon are completely down-to-earth, otherwise she wouldn't be hanging out with them! The comedienne admits that even though she's best buds with A-list actresses, it doesn't mean she gives them any sort of special treatment.
OK! GALLERY: REESE WITHERSPOON SHINES AT THE THIS MEANS WAR PREMIERE IN LONDON
Article continues below advertisement
"I mean, Jennifer Aniston is one of the most down-to-earth, low-key people I know. She's just a regular girl," Chelsea gushes in the March issue of Redbook, which she covers. "And Reese is the same way. I mean, you can't have friendships that aren't based on realness. I'm not going to treat them any differently than I would any other of my friends."
Jen and her boyfriend, Justin Theroux, even spent the holidays with Chelsea, who says it's no big deal. "Jen and Justin came to my house for Thanksgiving with 18 of my staff members," Chelsea reveals. "And so what?"
Someone else who's been spending time with the late-night host and her gal pals is Charlize Theron, who enjoyed dinner at the Sunset Tower Hotel in Hollywood last week with Jen, Justin and Chelsea and then stopped by Chelsea's house for Super Bowl Sunday with a case of beer. We love it!
And Chelsea admtis she wouldn't have it any other way — she loves hanging out with her famous friends!
OK! NEWS: CHELSEA HANDLER DISHES ON HER PAST DUI: "I HAVEN'T GOTTEN ONE SINCE!"
"I read this cheesy quote once: 'Blowing out someone else's candle doesn't make yours glow brighter," she says. "I'm very much about letting other people shine, because it makes us all shine brighter. I like having a fraternity. I like girls and boys together; misfits and underdogs — I love underdogs... I was an underdog. I always felt bad for the girl who was left out."