NEWS
Kanye West Tweets: Matt Lauer "Tried to Force My Answers" on 'Today'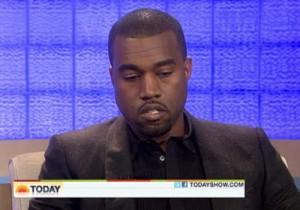 Kanye West appeared on the Today show for a taped interview with Matt Lauer in which he apologized to George W. Bush for calling him a racist. The segment may have seemed fine on air, but Kanye took to his Twitter after and said he felt "tortured" by Matt.
OK! NEWS: GEORGE W. BUSH'S "MOST DIGUSTING MOMENT": KANYE WEST CALLING ME A RACIST
In the previously record interview with Matt on the Today show, Kanye said, "I would tell George Bush in my moment of frustration that I didn't have the grounds to call him a racist. But I believe that in a situation of high emotion, like that, we as human beings don't always choose the right words. "
Article continues below advertisement
This morning, in a live interview with Matt, Bush said of Kanye's words, "I appreciate that. It wasn't just Kanye West who was talking like that during Katrina. I cited him as an example. I cited others as an example as well. And, I appreciate that."
"Does your faith allow you to forgive Kanye West?" Matt asked.
"Absolutely. Of course it does. I'm not a hater," Bush responded. "I didn't hate Kanye West. But, I was talking about an environment in which people really just say things that hurt. Nobody wants to be called a racist if, in your heart, you believe in equality of race."
Watch the interview below!
OK! NEWS: KANYE WEST GIVEWS IMPROMPTU IN-FLIGHT PERFORMANCE
It may seem like the matter can be put to rest now, but Kanye is upset. Now not with Bush, but with Matt.
"I went up there to express how I was empathetic to Bush because I labeled him a racist and years later I got labeled as a racist….While I was trying to give the interview they started playing the 'MTV' under me with audio!!!!!!!" Kanye Tweeted last night.
Article continues below advertisement
"I don't mess with Matt Lauer or the Today Show … and that's a very nice way for me to put it! HE TRIED TO FORCE MY ANSWERS. IT WAS VERY BRUTAL AND I CAME THERE WITH ONLY POSITIVE INTENT," he added. "I feel very alone very used very tortured very forced very misunderstood very hollow very very misused. I don't trust anyone but myself! Everyone has an agenda. I don't do press anymore. I can't be everything to everybody anymore."
"I can't be everybody's hero and villain savior and sinner Christian and anti Christ!" Kanye wrote. "I can't take anymore advice!!! I create, I'm creative, I have a good heart, everyone will see and understand one day. Everything sounds like noise!!!!!!!!!!!!!!!!!!!!!!!!! EVERYTHING SOUNDS LIKE NOISE!!!!!!! I don't trust anyone! Very judged very scrutinized very criticized! I want everyone to know I have lows all the time but I make it through them!"
Article continues below advertisement
OK! GALLERY: KANYE WEST DOESN'T RUN AWAY FROM RUNAWAY
"Yo I really wonder if Matt Lauer thought that s— was cool to play the 'MTV' clip while I was speaking about Bush? He played clips of Bush and asked me to look at his face while I was trying to talk to him. I wish Michael Jackson had twitter!!!!!!"
"Maybe Mike could have explained how the media tried to set him up!!! It's all a f—ing set up!!!!," Kanye concluded.
But in the end, Kanye tried to keep a positive attitude and it seems his Tweeting helped him cope with his frustration.