NEWS
Chris Brown & Rihanna Coincide with Coverage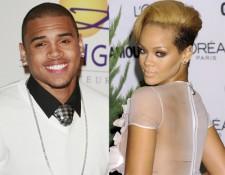 It seems like more than a coincidence that Chris Brown and Rihanna have been making important public appearances and career moves within days of one another. Last month, RiRi released her highly anticipated comeback single, "Russian Roulette," and Chris chose the same day to announce his tour agenda, E! News aptly points out. Two days later, Chris followed-up by releasing his new single, "Crawl." Publicity stunt, anyone?
Article continues below advertisement
Last week, Chris and Rihanna both had heart-to-heart TV interviews. Rihanna sat down with Good Morning America's Diane Sawyer and spoke about the assault for the first time and wished Chris well.
Chris's interview with Sway aired on MTV the same week, and he chose not to discuss the events that ensued the night of his abuse toward Rihanna.
Most recently, the ex-couple's careers will cross this Friday. RiRi's music video has been set to premiere Friday on 20/20. Coincidentally, Chris has decided to make his musical comeback on the Wendy Williams Show, where he plans to talk about the music video for his less-anticipated single.