NEWS
Chris Colfer of 'Glee' Tells OK! Where He'll Keep Award — His Bed!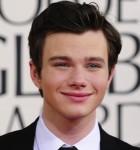 Although his former jobs include working in a cafeteria as a cookie scooper and in a dry cleaners as a clerk, look who's come a long way, baby! Chris Colfer snagged the Golden Globe for Best Supporting Actor in TV Series, Mini-Series or TV Movie -- and based on what he told us, it sounds like his award won't leave his sight.
OK! GALLERY: STARS GET GLEE-FUL FOR HOLLYWOOD STYLE AWARDS
In fact, Chris tells OK! he plans to sleep with his statue. Literally! "I think I am going to sleep with it. It is not going to leave my bedside. Usually when I get this is usually when I wake up. So I am going to keep it very close."
Article continues below advertisement
OK! NEWS: GWYNETH PALTROW SET TO REPRISE HER ROLE ON GLEE
Sounds like this is a real thrill for the actor, who has been watching the Golden Globes for as long as he can remember. He tells reporters, "I hate to say that I am a CinderFella but I kind of am. I have been watching the GG since I was an embryo and I actually got a Facebook from a friend who told me that one of her memories of me in school was when I got up and told everyone that I loved the Golden Globes."
OK! NEWS: GLEE CAST "SHOT ALL NIGHT" FOR MICHAEL JACKSON THRILLER COVER
So, who was the first person this 20-year-old actor called after he won? "I was on the phone with my mom. And I was trying to say I can't talk right now because I am in the press room. You're in the rest room, no, the press room."
While he was gleeful beyond words, it sounds like Chris will remember the night for a very long time, including a most embarrassing moment! "Tonight I completely embarrassed myself in front of Helena Bonham Carter and I saw her on the red carpet and screamed in her face. I will never forget when she kissed me on the cheek."
Reporting by Gena Oppenheim