NEWS
Chris Colfer Hopes 'Glee' Sex Scene "Sets the Standard for Gay Kids"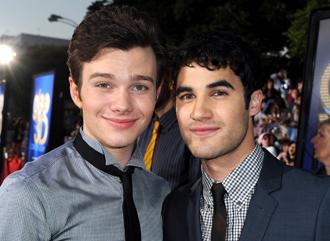 Article continues below advertisement
"Because it was so simple, it really wasn't that big of a deal. It's so funny, because fans always want to make it out to be this huge thing that it really isn't," Chris tells E! News. "When there are 40 middle-aged crewmembers in the room with you, there's nothing romantic about it. It's just like doing any other scene."
The scene itself is not too over-the top.
"Yeah, I was expecting to being showing some skin but we got there and they wanted Darren in a tank and they wanted me in a shirt, so I don't really have to worry," he explained.
OK! GLEE-CAP: QUINN QUITS NEW DIRECTIONS FOR NEW PUNK LIFESTYLE; SUE & MR. SCHUE AT WAR
But Chris hops fans of the show will take something away from watching Kurt and Blaine's first time.
"I really hope that if Kurt and Blaine do anything for society or the world or anything like that, I really just hope it kind of sets the standard for gay kids," Chris said. "I don't mean to upset anyone by saying this, but it is just kind of a known fact that a lot of gay kids are very promiscuous and non-exclusive with each other when they have relationships, which is really sad."
Glee's "The First Time" airs tonight at 8 p.m. on Fox!