NEWS
Chris Colfer Visits Andy Cohen & Talks 'Glee', Britney Spears and Sarah Jessica Parker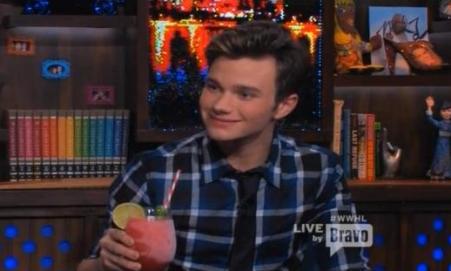 Chris Colfer stopped by Watch What Happens: Live last night and talked to host Andy Cohen about the upcoming season of Glee (spoiler alert!) and his new children's book, The Land of Stories.
OK! NEWS: GLEE STARS AND PRODUCERS SPILL ABOUT UPCOMING SEASON AT COMIC-CON
Chris found himself in the hot seat more than Andy's guests usually do; he was supposed to share the spotlight with Ashley Tisdale, but her flight was delayed due to a storm that swept NYC in the late afternoon. That meant: more Glee talk and more games for Chris!
Article continues below advertisement
Our favorite: First Impressions. Andy showed Chris pictures of people who have guest-starred on Glee, and asked him to say the first thing that came to mind. His reactions are below!
Britney Spears: "Oh! Um... I think of lockers! She was by lockers," Chris said. (Honestly, we were hoping for something a little more interesting on that one.)
John Stamos: "Nice."
Gwenyth Paltrow: "Royalty."
Kristin Chenoweth: "My girl!"
Cheyenne Jackson: "Hot."
Kathy Griffin: "Friend. Well, I'm actually more of a stalker, but I'll say friend."
Lindsay Lohan: "Sweet."
NeNe Leakes: "Mother."
Ricky Martin: "Hot."
Jeff Goldblum: "Hot."
Whoopi Goldberg: "Idol."
Olivia Newton-John: "Historical." (He totally meant that in a complimentary way.)
OK! GALLERY: CORY MONTEITH AND LEA MICHELE COZY UP AT VERSACE HAUTE COUTURE SHOW IN PARIS
Chris also discussed the fourth season of Glee. He has heard the rumors that the relationship between his character, Kurt, and Darren Criss' Blaine, won't last. While he doesn't know if that's true, he admitted, "I imagine there will be at least a hiccup." He also spilled that Sarah Jessica Parker will be guesting next season. "I'm very excited," he said. Sarah Jessica's character will mentor Kurt when he "eventually" arrives in New York.
Article continues below advertisement
Andy tried to get Chris to spill some behind-the-scenes gossip, but to no avail. (So, we still don't know who has been hooking up besides the obvious: Cory Monteith and Lea Michele.)
One last thing, because Chris is adorable: a viewer Tweeted the show, asking who Chris would "Shag/Marry/Kill." His options: Barbara Streisand, Madonna and Lady Gaga.
"Out of respect, I'll just kill Streisand so she doesn't have to be a part of this," Chris said. "I would shag Madonna, definitely, because she seems like a great shag; I'm actually obsessed with her. And I'd marry Gaga."
It was a bummer that Ashley couldn't make it, but we love Chris!