NEWS
Chris Harrison Calls Bentley Williams' Comments About 'Bachelorette' Ashley Hebert "Not Cool"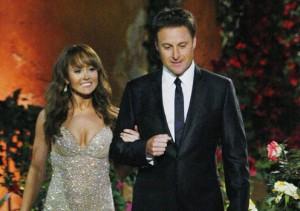 The host of The Bachelorette, Chris Harrison, normally wouldn't interfere with a Bachelorette's decision to keep a contestant, but he says he did try to warn Ashley Hebert about Bentley Williams. And he's setting the record straight that he does not approve of Bentley's comments on the show.
OK! NEWS: BENTLEY WILLIAMS ON BACHELORETTE ASHLEY HEBERT — SHE CAN "TICKLE MY PICKLE" BUT THAT'S IT
Chris blogged about his feelings of last night's episode of ABC's The Bachelorette, which featured some shocking comments from contestant Bentley on Ashley. Basically, Bentley doesn't like her, but enjoys the competition to get her.
Article continues below advertisement
"I told her that first night she might want to nip this in the bud and send him packing, or at the very least be extremely careful with this guy," Chris writes for Entertainment Weekly. "She convinced me and everybody else that she was going to give him a chance and follow her gut."
"To say Bentley is not here for the right reasons is a gross understatement. But it seemed the more I warned Ashley and told her to run for the hills, the more she protected and defended him," he explains. "At some point you have to let the person find out for him or herself what the truth really is."
But that doesn't mean Chris in any way approves of Bentley's behavior.
"Let me be very clear the things he said about Ashley and his feelings for her weren't cute and they weren't funny," he says. "They were out of line and disrespectful. He knew for a fact he wasn't into Ashley and wanted nothing to do with her, yet he continued to lead her on emotionally and physically as well, and that in my book is not cool."
Article continues below advertisement
OK! NEWS: THE BACHELORETTE CONTESTANT BENTLEY WILLIAMS HOPED FOR EMILY MAYNARD — IS THE DRAMA STAGED?
And Chris says it's only going to get worse before it gets better.
"As you saw in the preview things come to a head and unravel in a major way next week... What you will see next week will easily be one of the most talked about moments ever," he writes. "There won't be one viewer that won't have a very strong opinion about what unfolds. We've had plenty of dramatic moments over the years and I even joke about using that word all the time."
"This is different and it is nothing to joke about," Chris adds. "You will see the wheels completely come off this ride for Ashley – so much so we came very close to having to shut down production on our show. There was a very real chance that Ashley was done and so was this season."
"It was a mess, and you will see every bit of it next Monday night."