NEWS
Chris Hemsworth Gets Dirty & Drunk For His 'GQ' Shoot... And Looks Hot Doing It!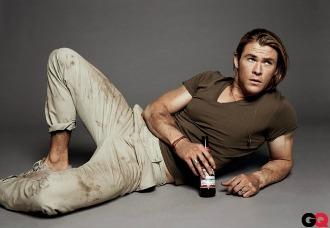 Alright, we might have finally made a choice between the Hemsworth brothers after catching a glimpse at Chris Hemsworth's new photo shoot for the July issue of GQ magazine. Although Miley Cyrus' man Liam Hemsworth is a Hunger Games hunk, his big brother Thor officially takes the cake!
Chris poses in simple T-shirts and dirtied-up khakis for his GQ spread, and he's never looked better. But let's be honest, this guy could make a garbage bag look good! (And wait... he's a dad!?)
Article continues below advertisement
OK! GALLERY: CHRIS HEMSWORTH AND CHRIS EVANS BRING THE STUD FACTOR TO GOOD MORNING AMERICA
So, what does Chris have to say about those toned arms, impeccable pecs and killer abs of his?
"It's helped me get a job, sure," the actor, who's married to Elsa Pataky, says of his flawless physique. "But you hope it's not the only thing that helped."
Chris' breakthrough role as Thor, the God of Thunder, in both Thor and The Avengers has earned him a lot of praise and has helped him land a couple of other heroic roles, including his portrayal as the huntsman in Snow White and the Huntsman, which co-stars Kristen Stewart and Charlize Theron.
But playing "a lost soul and a drunk," as Chris likes to refer to the huntsman as, was much more difficult than bulking up for Thor. The Australian hottie admits he had to practice getting a bit boozy for the role. Before shooting his drunken scenes, Chris would spin around in circles, making sure he looked tipsy (and disoriented) for the cameras.
"It really shakes everything up, and you feel a bit more alive," he admits. "I actually started spinning in circles before the scenes where I didn't need to be drunk."