NEWS
Christian Bale Opens Up About Saying Goodbye to Batman & Focusing on Family Life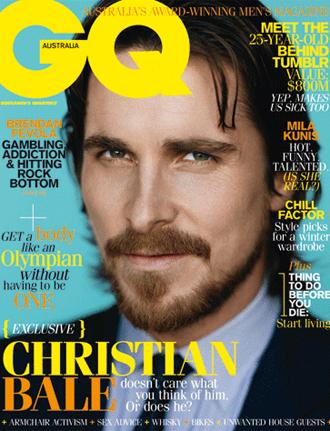 For the past seven years, Christian Bale has been portraying one of the most iconic roles in the entertainment industry: Bruce Wayne, who, of course, is Batman.
But now that his time with Christopher Nolan and the epic Dark Knight franchise is coming to an end, the actor is ready to focus on family — though he did recently admit that he'd "love the challenge" of a fourth installment.
OK! GALLERY: CHRISTIAN BALE & ANNE HATHAWAY GET DOWN TO BUSINESS ON THE DARK KNIGHT RISES SET
Article continues below advertisement
"I have been deeply honored to inhabit this character. It was a massive undertaking. Physically, emotionally, every way," Christian tells GQ Australia in its new issue. "But suddenly we were in the final throes. I sat down and asked for a little space. I stared at the cowl for a good long moment and thought, 'Man, this one really took on a life of its own.' "
Although Christian will miss playing the Caped Crusader, he's ready to take on new projects and try to be home with his wife, Sibi Blazic, and their daughter, Emmeline, as much as possible.
"Think about how strange and unfortunate it would be for my daughter if I couldn't just be a dad," Christian explains. "You shouldn't make your children suffer because of choices you make... I get no greater joy than when I'm looking at my daughter and her friends when they're laughing their a**es off."
"Movies are great, but when I look back, it's the time with my family I'm going to remember. That's the source of character."
OK! NEWS: CHRISTIAN BALE READY TO RETIRE HIS BATMAN COSTUME AFTER DARK KNIGHT RISES
And even though Christian has his critics, he knows who he is and what he wants to represent.
"It's not that I don't care what people think; it's just that it doesn't serve anyone to get too caught up in that, especially in my line of work," the actors says. "To me, it's all about having a belief in what you're doing. That's how you live an extraordinary life. It's 'How are you going to do things differently than anyone else has done it?' "