NEWS
Christie Hired P.I. to Follow Ex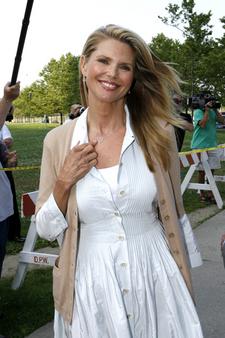 Christie Brinkley and Peter Cook's abrupt settlement after days of acrimonious he-said-he-said was the result of damaging evidence gathered against Peter by private investigators.
P.I. twins Ty and Stephen Dux were hired by Christie last year to tail her estranged husband, and the two accumulated footage that most definitely would've swayed the case Christie's way, causing Peter to halt the trial.
"It's not of sexual nature. More information that would have been damaging to him Cook with his relationship to his children and possibly his community," Ty tells Extra. "Some of his actions might have been a little reckless with his kids that could have caused them some harm. Some of it could be considered illegal. But not to the fact that it's criminal."
Article continues below advertisement
Court shrink Dr. Stephen Herman, who labeled Peter as a narcissist with sexual issues, on Tuesday that the architect showed "poor judgment" when it came to parenting and his fling with Diana Bianchi caused "irreparable harm" to his children with Christie, Jack, 13, and Sailor, 10.
"They video tapes were going to be introduced as evidence," Ty says. "I believe he Cook had enough already."
The twins aren't allowed to release any more information of the content of the videos, but Ty admits it's probably not needed as Peter is "ruined already." Still, the 49-year-old, who received parenting time in the settlement, "needs some type of relationship with his kids. He's going to be with them. He's the father."
As for Christie, who won sole custody of Jack and Sailor and all 18 of their real estate properties, Ty says, "She's a truthful person. Sincere mom. She's the queen of the Hamptons."