NEWS
Christina Aguilera Says She's a "Huge Supporter" of Britney Spears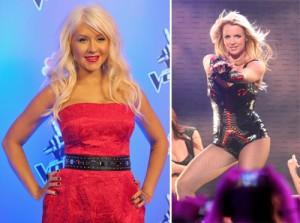 While promoting her new NBC show The Voice with producer Mark Burnett, judge Christina Aguilera took time out to say nice things about fellow pop star and old friend Britney Spears.
OK! VIDEO: WATCH NBC'S THE VOICE NEW PROMO VIDEO!
When asked about sending Britney a congratulatory tweet about her her new CD, Christina said, "You know what I haven't heard the whole thing in it's entirety (Femme Fatale). I've been really hard at work on this show. I haven't had quite the chance to go through the whole thing."
Article continues below advertisement
"But I am a huge supporter of her in light of the fact that both of our careers started off together and are still going and going strong," she explained. "I just think at this point in the game it's extremely important to be supportive of fellow artists and especially females who get pitted against each other and torn apart. As an old friend of mine from the Mickey Mouse Club, I think it's important at this stage in the game to show my support."
OK! GALLERY:  BRITNEY SPEARS TAKES HER BOYS TO SEE THE LION KING IN VEGAS!
Other female artists that Christina talked about liking were Jennifer Hudson, Florence Welch and Adele!
"Jennifer Hudson has a beautiful voice. I truly enjoy working with her and we became friends. She's such a cool, down to earth person. She definitely has some pipes and it's effortless to hit those notes. It's a beautiful thing to watch. Florence, Florence & The Machine, she has quite a striking and interesting voice. And Adele, I think she has a really cool something that is going on right now. So those would be the 3."