NEWS
Ciara is All Smiles After Ending Twitter Feud with Rihanna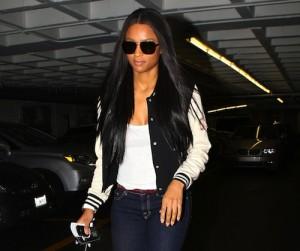 Twitter has become a well known platform for celebrities to voice their opinions and thoughts, but this week Rihanna and Ciara took to the site to dish out a bit of a brewing feud!
During Ciara's guest spot on Fashion Police last week, she told host Joan Rivers that she recently had a not-so-pleasant encounter with the 23-year-old Barbadian singer.
Article continues below advertisement
"I ran into her recently at a party. She wasn't the nicest. It's crazy, because I've always loved and respected what she's done in fashion. It wasn't the most pleasant run-in," Ciara explained to Joan on the E! show.
In response, according to E! Online, Rihanna took to her Twitter account this week and wrote, "My bad Ci, did I forget to tip you? How rude of me....You gangsta huh? Haa."
When Ciara caught word of Rihanna's tweet, the "Goodies" singer retorted back on her own Twitter account, "Trust me Rihanna you don't want to see me on or off the stage."
Luckily, these two poised and very talented ladies knew when to end their public dispute and called a truce quickly on Friday afternoon.
"You hurt my feelings real bad on TV! I'm heartbroken! That's why I retaliated this way! So sorry! Let's make up," Rihanna tweeted.
Article continues below advertisement
OK! NEWS: CHRIS BROWN'S HALF-HEARTED "MY BAD"
And Ciara couldn't resist accepting the apology, "Ri, u know its always been love since day 1! Doing shows and everything. You threw me off in that party! Apology accepted. Let's chat in person."
Later on Friday, the 25-year-old, who collaborated with Justin Timberlake for the song "Love Sex Magic," was spotted shopping in Beverly Hills with a big smile on her face.
Alls well that ends well for Rihanna and Ciara!
Michael lohan, Lindsey lohan
Razzies
Rolling stone