NEWS
Claire Cruise Is "Extremely Delusional" Say Former Acquaintances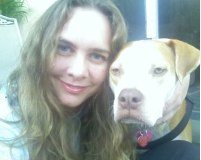 OK! has learned some of the details of the sad and troubled life of the woman claiming to be the mother of Michael Jackson's children in an LA court today.
According to two high school acquaintances of Claire Cruise, both of whom feature in her bizarre stories, she is an "extremely disturbed and unstable" woman who has been in and out of mental institutions for years.
Chris Caputo, to whom she claims she is now engaged and says is the biological father one of MJ's babies, tells OK! that he has absolutely no ongoing relationship with Claire and that he last saw her in 1983.
Article continues below advertisement
"Claire can be very coherent, until people learn that she is an extremely disturbed and unstable individual," said Chris.
His business partner, Bruce Williamson who is also mentioned in many of Claire's improbable posts on her Facebook and Twitter pages, said that Claire has a history of mental illness and described her as "extremely delusional".
Bruce said that Claire has claimed to have had relationships with celebrities including Leo DiCaprio and Tom Cruise and that she spends much of her time traveling around the country Greyhound buses looking for a fortune she believes her grandmother told her about.
The pair declined to comment on whether or not they currently had restraining orders out on Claire.