NEWS
Claire Danes Paints Vanderbilt Hall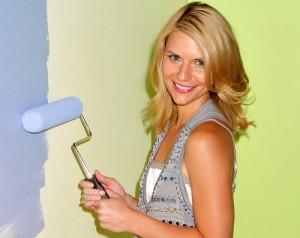 Maybe acting just isn't her thing anymore? Maybe she's had a lifelong dream to become a painter? Whatever the case, Claire Danes appeared at the Grand Central Terminal in NYC on Tuesday painting Vanderbilt Hall. She didn't go all out and coat the ceiling to the floor, but she did show off some of her painting skills for the launch of Valspar's new Hi-Def Paint.
Article continues below advertisement
She was seen rolling on lilac paint on the walls alongside some Valspar promo men. Claire wasn't in full painting gear though. She came to the event with her blonde locks down, in a pair of pointy silver stilettos and a sequined gray tank.
OK! GALLERY: PARIS IS PAINTED IN VALENTINO
Since the Valspar boys were wearing all white, they were just asking for trouble. That's why Claire even rolled on some paint on one of their chests. Looks like Claire's taking a liking to the world of primers and paints!