NEWS
Clarence Clemons' Loss Is "Immeasurable" Says Bruce Springsteen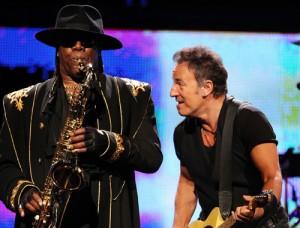 The music world has been greatly impacted and saddened by the loss of legendary saxophonist Clarence Clemons. Clarence passed away Saturday after complications from a stroke he suffered earlier this month. Known as the "Big Man" by his best friend and collaborator Bruce Springsteen, Clarence's legacy will live on through the E Street Band and his fans. The Boss issued an official statement, expressing love for his friend and encouraging all his worldwide fans to show theirs as well.
Article continues below advertisement
OK! NEWS: CLARENCE CLEMONS, E STREET BAND'S SAXOPHONIST, DIES AT 69
"Clarence lived a wonderful life," Bruce said in an official statement on his website. "He carried within him a love of people that made them love him. He created a wondrous and extended family. He loved the saxophone, loved our fans and gave everything he had every night he stepped on stage. His loss is immeasurable and we are honored and thankful to have known him and had the opportunity to stand beside him for nearly forty years."
He continued: "He was my great friend, my partner, and with Clarence at my side, my band and I were able to tell a story far deeper than those simply contained in our music. His life, his memory, and his love will live on in that story and in our band."
Clarence suffered a massive stroke on June 12 and signs for his health were initially hopeful. After two brain surgeries, he took a turn for the worse.
MORE ON:
Bruce Springsteen
Article continues below advertisement
He left his mark on the music industry with "Born to Run," "Thunder Road," "Dancing in the Dark," and countless Springsteen hits. In fact, The Boss himself credits Clarence as a true partner in their musical journey. In Clarence's memoir, Big Man: Real Life and Tall Tales, Bruce wrote in the introduction, "The story I have told throughout my work life I could not have told as well without Clarence."
"
Praising Clarence and the fact that he was the only band member to appear on the Born to Run cover with Bruce, the singer noted in the memoir, "When you open it up and see Clarence and me together, the album begins to work its magic."
Fans flocked to Bruce and Clarence's NJ haunt, The Stone Pony, alongside the boardwalk in Asbury Park, New Jersey, to pay tribute to the legend.
Watch in the clip, below.