NEWS
Clint Eastwood's Imaginary Obama Chair Routine Has Celebs Reacting on Twitter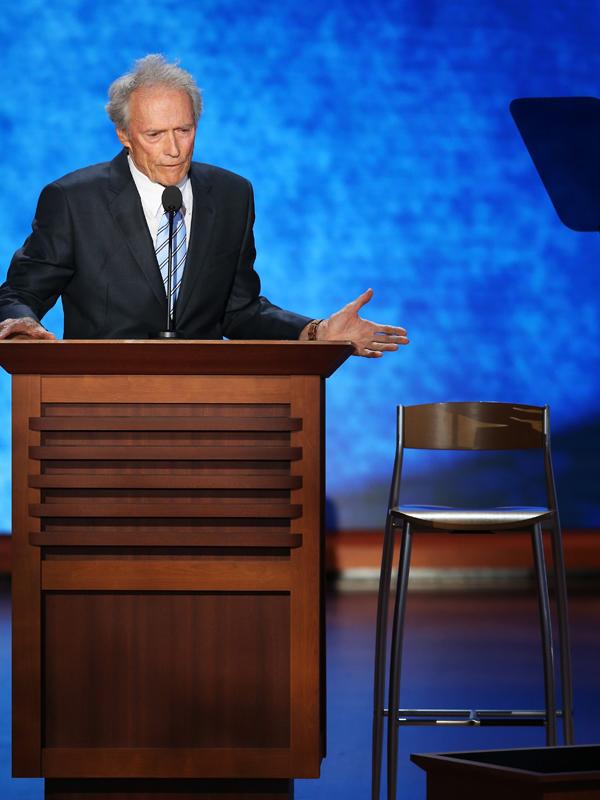 Last night Clint Eastwood turned The Republican National Convention into an impromptu acting workshop when he dragged a chair onstage and proceeded to talk to it as though President Obama was seated.
OK! GALLERY: BRAD PITT & CLINT EASTWOOD GET CHUMMY AT AFI AWARDS
The actor would turn to the empty seat and chastise the invisible president for everything from the war in Iraq to the unemployment rate. It was an unconventional speech for sure, and left many celebrities flabbergasted, amused and annoyed all at once.
Article continues below advertisement
"Still can't tell if Clint was hallucinating or President is really invisible now," tweeted Zach Braff.
Zachary Quinto quipped: "Is clint eastwood meant to instill confidence in republicans?! I am legitimately scared of his talking to imaginary Obama."
Other celebs like Roseanne Barr and Adam Levine kept it simple saying the actor was "Cray" and "f--kin nutterbutters."
"We had breakfast with #emptychair. Were a tiny bit rude to invisible guest," said Mia Farrow.
OK! GALLERY: BRAD, ANGIE AND MADDOX MAKE IT A MOVIE NIGHT WITH CLINT
Meanwhile, Roger Ebert was protective of the legend wrote "Clint, my hero, is coming across as sad and pathetic. He didn't need to do this to himself. It's unworthy of him."
"When Clint woke up this morning he saw that Obama was gone from the chair...Or was he still there!?!?!" Tweeted funnyman Seth Myers.
However, by far the best comeback came from the president himself who Tweeted a picture of him seated in a chair titled "The President" and the phrase: "This seat's taken."