NEWS
Cody Simspon Talks Getting 'Punk'd' By Heather Morris: "They Robbed My House!"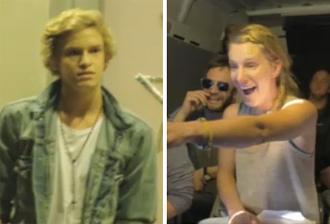 Tonight brings us an all-new episode of Punk'd and one of the victims is none the than teen heart throb Cody Simpson.
Cody revealed to OK! during a Hallmark listening party for his new EP, Preview to Paradise, that he had no idea he was being punked!
"No, I had no idea what was happening," he said. "It's amazing. They robbed my house, it's very exciting."
"Heather Morris from Glee, she punked me. It was crazy. They kind of revealed it to me right before I hit somebody with a golf club."
Article continues below advertisement
OK! NEWS: CODY SIMSPON SAYS SONG WITH JUSTIN BIEBER WON'T BE ON HIS NEW ALBUM
Woah! Cody also said that if he could punk anyone in the whole world on the show, it would be his sister Alli Simpson!
"She would not be expecting it. She's really sensitive, so I think it would be hilarious."
OK! GALLERY: KATY PERRY & LIONEL RICHIE ARE HONORED AT NARM MUSIC AWARDS GALA
Sounds like a real brother to us!
Check out a clip below from the episode (also starring Joe Jonas and Emma Roberts) and get Cody's EP on June 5.