NEWS
Conan O'Brien Gives Taxidermy Lover Amanda Seyfried a Dead Raccoon Live on his Late Show!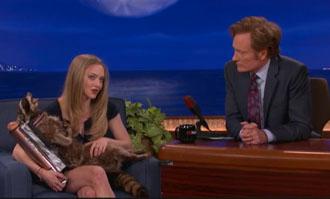 Last April, actress Amanda Seyfried confessed that she actually collects dead animals as a hobby. Well, if that revelation wasn't weird enough — it's almost as weird as Kristen Bell's sloth addiction — Conan O'Brien put Amanda's love of taxidermy to the test by gifting her with a stuffed raccoon!
OK! GALLERY: AMANDA SEYFRIED STRIKES A POSE AT THE PREMIERE OF GONE IN HOLLYWOOD
"I have a three-week-old, died of natural causes, miniature horse," Amanda said of her taxidermy collection on Conan last night. "I have a chick that I just got, her name is Linda. Well she's not alive, but her name would have been Linda. And then I have an owl named Beatrix and I have a few butterflies," she added. "I'm just getting started. It's just the beginning."
Article continues below advertisement
And right after Conan jokes that he's going to call the police, the late night host, who's contract with TBS just got renewed for another two years, tells her about a little creature who she just might like to keep.
"We have the coolest taxidermy animal of all time that we've used on our show throughout the years. It's a screeching raccoon with a jetpack," Conan told Amanda before showing her a clip of the raccoon in action on the show. "You like that? I will give it to you, on the air, your own taxidermied, jet-packed raccoon."