NEWS
Conan O'Brien Returning to TV for '60 Minutes'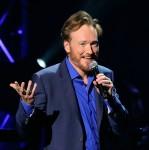 Article continues below advertisement
But he'll have to try and use a filter as there are some things that he's not allowed to talk about like his old bosses, which was part of his deal when he left NBC.
However, Kroft told the New York Times, "He flirts with the restrictions."
OK! NEWS CONAN O'BRIEN PICS TBS OVER FOX
Another issue they had to deal with was Conan's restriction from appearing on TV before May 1, which means even though Conan's segment won't air until May 2, highlights can't be used as promotion before then.
But, they've come up with a solution!
"I think we'll just show me talking to him and have to blank his face out," Kroft said.