NEWS
Confirmed: Shannen Doherty Returning to 90210!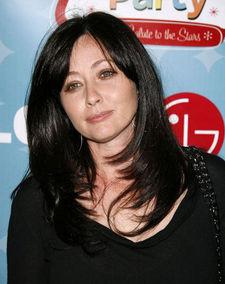 As reported recently by OK!, actress Shannen Doherty has been in talks to reprise the role of Brenda Walsh in the upcoming CW update/spinoff of '90s teen drama hit Beverly Hills 90210. And now, producers for the show confirm that the deal is done and Shannen will indeed be back!
At an event to promote the show on Saturday, producer Gabe Sachs confirmed that Shannen, who was rumored to have caused much on-set strife with her diva antics during the original run of the show, will be returning as Brenda Walsh in a guest role and that she'll be the drama teacher in charge of directing a staged musical within the episode.
Article continues below advertisement
Shannen joins Beverly Hills 90210 originals Jennie Garth and , who have both confirmed they will be making guest appearances on the show.
When asked about the possibility of her former foe's return, Jennie recently said, "If Shannen comes to do the show... Excellent. The fans would love it. I'm a big girl. I can handle anything."
By Carole Glines