NEWS
Corey Feldman Won't Attend Corey Haim's Funeral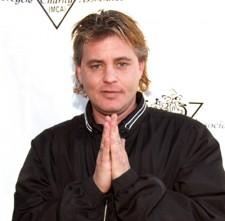 Corey Feldman will not be attending lifelong friend Corey Haim's funeral tomorrow in Toronto out of respect for the family's wishes to keep the service private. Despite earlier reports that the City of Toronto would fund the late Corey's funeral, a spokesman for the city said they never received an application for the funeral from his family.
Corey's mother, Judy Haim, told Access Hollywood that Toronto would help fund her son's funeral along with Startifacts.com, a celebrity memorabilia Web site that offered to pay for Corey's tombstone, food, guests and other miscellaneous expenses.
Article continues below advertisement
"While the city would normally not confirm nor deny the existence of an application for assistance with funeral benefits as this is a matter covered by privacy regulations, given the number of reports the city has chosen to confirm the facts in this matter," the city said in a prepared statement via CBS news.
Corey's family is reportedly backing down from claims today as well.
A rep for Startifacts.com told Access this weekend that the site has offered $20,000 to the Haim family to help cover funeral costs and other expenses.
Site owner Michael Kronick became friends with the troubled actor in the first half of the decade, buying a number of personal items from him.
Corey's friend and fellow former child actor Scott Schwartz already started organizing the late star's belongings to sell on eBay in order to raise money for the funeral.
Article continues below advertisement
The rep at Startifacts said the items have been purchased by the site.
"We gave that money out of the goodness of our hearts, but we do work with so many celebrities and we always try to help them out, especially when they're hard on cash," the Startifacts rep said, urging that Corey fans continue to support his mother Judy — who is battling cancer and undergoing chemotherapy — by donating to the Corey Haim Memorial Fund.
Corey's toxicology report is expected to be released in six to eight weeks. The famed '80s teen idol died on March 10 at the age of 38 from what's believed to be an accidental drug overdose.
OK! GALLERY: A LOOK BACK AT COREY HAIM'S LIFE IN PHOTOS
The private funeral is scheduled for 11 a.m. Tuesday at Steeles Memorial Chapel in Toronto.
Corey's Lost Boys and License to Drive co-star Corey Feldman, will not be at his best friend's funeral.
Article continues below advertisement
"In the days following my best friend Corey Haim's death, I have spent much time with his mother Judy, who has always been like a mother to me," the actor explained in a statement via E! News. "I would love nothing more than to be by her side at Corey's funeral, however, due to their strong religious beliefs and need for privacy, the family has decided to make Corey's funeral on Tuesday a small private affair.
"Understanding the recent media attention and to be respectful of the family's wishes, I have decided not to attend."
Feldman did not comment on how Corey Haim's family will fund the funeral.
"Instead, I will remain in Los Angeles quietly mourning and planning his memorial," he continues. "As a sign of respect, I am asking the media to honor Corey Haim by making the same choice. I am working with a few people who were close to Corey to put a memorial together within the next month. At that time, the media will be invited to honor and celebrate the legacy he has left behind, along with friends, fans and the rest of the Hollywood community."