NEWS
Corey Haim Had Become a "Responsible, Stand-Up Guy," Says Corey Feldman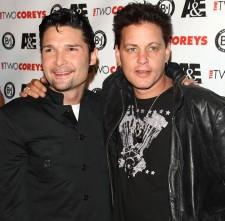 Corey Haim had cleaned up and turned his life around, acting and caring for his cancer-stricken mother, before he died, says his best friend Corey Feldman.
"We all are aware of the fact that Corey Haim had a long and detailed drug history. And battled addiction for many, many years," Corey Feldman told Larry King last night.
"I know it better than anybody, because I've been the guy stuffing charcoal down his throat when he was OD-ing. I've been the guy trying to make him, you know, stand up, or say a complete sentence.
Article continues below advertisement
"However, most recently he's been honestly in the best frame of mind that he's ever been in in the past year.
"I mean, I would say with his mom battling cancer, he's really showed up. He's really become a man. He's been there. He's been there for her. Taking care of her. Being responsible."
Larry brought up a rift the pair had in 2008 when Corey Feldman pledged not to speak to Corey Haim until he got sober. Why did they reconcile?
"He shaped up. He got his act together," said Corey. "He was doing so much better. I mean, as I mentioned, his mom got very ill. And when his mom got ill, it was the first time I ever saw Corey grow up. He was grown up. He was responsible. He was there with her every day giving the chemotherapy.
"He was there with her every day getting the radiation. I actually picked them both up from the hospital and drove them back to their apartment, because he didn't have a car.
Article continues below advertisement
"So it was the first time in my life that I had ever seen Corey really be that responsible, stand-up guy for somebody else."
The two Coreys were even planning to work together again: "We were actually negotiating a deal to do our first movie together in nine years," said Corey.
What about the assumption that he died from an overdose? "I know that he was fighting the good fight. And, at the end of the day, I know that there were symptoms that he was showing that expressed it could be a number of things.
"You know, this could have been a kidney failure. This could have been a heart failure."
"Was he on a lot of meds?" Larry asked.
"Well, he was," said Corey. "And that's the thing, I mean, this could have been a mixture of drugs, it could have been a cocktail that's specific or it could also have been the fact that, you know, your body shuts down after years of abuse."
Article continues below advertisement
He added: "I know that he was recently seeing a treatment specialist who was new in the mix, who he had only been seeing for the past two weeks. And that treatment specialist put him on a new line of medications, which were special medications.
"I'm not going to go into what they were, but let's just say that they may not have corresponded properly with the medications that he was currently taking."
Meanwhile, angry at his friend's death, Corey lashed out at the celebrities from Karina Smirnoff to Alyssa Milano paying tribute to the former child star.
"I'm angry, I'm hurt and I'm sad, of course, for all the same reasons that a lot of people are, but... The trouble, for me, Larry, is that I appreciate the fact that everybody really cares and is trying to show their expression of sorrow right now.
Article continues below advertisement
"But at the end of the day, Larry, where were all these people the last 10 years, the last 15 years of Corey's life? Corey was living in the low-priced rental Oakwood Apartments with his mom, very broke, very destitute."
The buddies met through mutual friends in the '80s as young child stars, and went on to star in such cult classics as the Lost Boys and License to Drive. What was his reaction to the news about Corey's death, aged just 38?
"I was shocked, yes. Yes, I was shocked," said Corey, who spoke to him just three or four days ago. "He was fine. I mean, he was actually giving me some advice about something that I was upset about.
"And he was being very positive. I had just been getting him out more recently. I had taken him up to the Playboy Mansion fairly recently for the Super Bowl party.
Article continues below advertisement
"After that I set him up with a girlfriend of ours named VH1's Rock of Love star Daisy De La Hoya, and the two of them had dated a bit. So I was kind of trying to make matchmaker."
What does Corey think about talk his friend died of an overdose? "They need to stop jumping the gun," said Corey. "They need to stop saying it's a drug overdose. They need to stop saying, you know, their theories of what they think it is or isn't."
Corey Haim had problems adjusting to fame as an adult: "In this entertainment industry in Hollywood, we build people up as children, we put them on pedestals and then when we decide that they're not marketable anymore, we walk away from them," said Corey.
"And then we taunt them and we tease them and things like TMZ, outlets like that, where it's acceptable in society, it's okay for society, as a whole, to poke fun at, to point fingers at, to laugh at us as human beings. Why is it okay to kick somebody when they're down?"
Article continues below advertisement
Despite his difficult last years, trying to get his career and life back on track, Corey said his friend was a blast. "He was tremendously funny. You know... he's the only person in my life that could really make me laugh — laugh to the point of tears.
"I mean, just three weeks ago — just three weeks ago, I sat at his apartment with him. And we were talking about my divorce, of all things. And he was talking about my ex-wife and I was talking about her and we started talking about, hey, wouldn't this be a great idea, to have a third season of The Two Coreys?"
Although the funeral plans are up in the air, Corey said: "We do want to plan a sizable memorial. I would really like to see people in Hollywood pay their respects for him for the work that he's done. He's not a joke. He's done some amazing work. Look at Lucas, look at Lost Boys, look at Blown Away. I mean the kid was an amazingly talented actor."
Article continues below advertisement
Corey Haim's latest film American Sunset had been screened in Las Vegas. "He enjoyed it very much and I've heard from everybody he did an amazing performance," said Corey.
"So I was very inspired by that. Not only were we negotiating a film to do together, but Corey had a concept to do License to Fly, which would have been a sequel to License to Drive."
How would Corey like his old friend to remembered? "Hopefully, he's going to be remembered as a beautiful, funny, enigmatic character who brought nothing but life and light and entertainment and art to all of our lives."