NEWS
Cost of 'Jersey Shore' Beachside Bungalow Bumped Way Up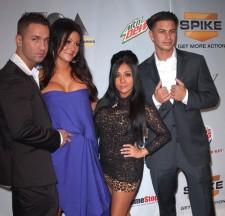 Looks like everything the cast of Jersey Shore touches turns to gold... or gets sold, for that matter. The cost to rent the Seaside, N.J., home has tripled since the famed guidos and guidettes from MTV's hit reality show set up their summer residence and started partying there.
The owner of the gang's infamous 3,200-square-foot party beach house claims he is making triple the amount of cash since the show's success, TMZ reports.
Article continues below advertisement
So how much will it cost you to get ready in the same bathroom where Snooki pouf-ed her hair or lift weights in the living room where "The Situation" worked on his guns? Approximately $3,500 per night until the summer hits.
OK! NEWS: "THE SITUATION" SHOOTING SUPER BOWL AD WITH PEYTON MANNING
After May, a night in the six-bedroom, three-bathroom house will cost you $6,500. However, the prime location will provide access to the hottest fist-pumping clubs the Shore has to offer.
Ever since Snooki, "The Situation" and the rest of the gang were seen on MTV, getting down GTL-style (Gym. Tan. Laundry.) at the house, demand to rent it skyrocketed, the owner told TMZ.
OK! HOT GALLERY: THE JERSEY SHORE ARRIVES AT THE GRAMMYS
And as an added bonus? Most of the original couches, beds, tables and artwork featured on the show still remain in the house.