NEWS
Courtney Love Accuses Dave Grohl of Hitting on Daughter Frances Bean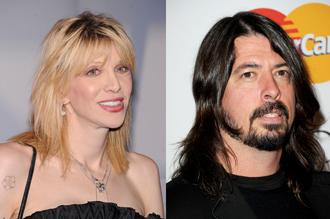 Courtney Love took to Twitter to blast Dave Grohl, 43, for allegedly hitting on her daughter with the late Kurt Cobain, Frances Bean Cobain, 19. The former Nirvana drummer denied the accusation, calling Courtney's claims "bulls***."
OK! NEWS: FOO FIGHTERS FRONTMAN DAVE GROHL DISSES GLEE IN EXPLETIVE-LADEN RANT AGAINST RYAN MURPHY
Courtney says she heard about the incident from "an old friend" as well as Frances' roommate, but was vague about when and where it happened. Dave, now with The Foo Fighters, has been married to Jordyn Blum since 2003. Frances, who largely stays out of the limelight, is reportedly engaged to Rambles' singer Isaiah Silva.
Article continues below advertisement
Courtney used her locked, private account @cbabymichelle to Tweet the accusation (Tweets were screen-grabbed by Gawker) and speculate about whether the two slept together. But Courtney also said Dave "had his hands all over" her daughter, who, in turn, "gave him serious shade."
When Dave got wind of the Tweets (Courtney was Tweeting to the wrong Dave Grohl), he released a statement, saying, "Unfortunately, Courtney is on another hateful Twitter rant. These accusations are upsetting, offensive and absolutely untrue."
OK! NEWS: COURTNEY LOVE WINS COURT BATTLE OVER NYC LANDLORD
Courtney told the Daily News that she was "certainly not going to retract anything."
The two have been at odds over Nirvana's legacy for many years, and Courtney says Dave's actions are a form of revenge. "Dave is on another Kurt rant, turning him into a Muppet and hitting on his daughter," she said. The Muppet remark is in reference to Dave's decision to let Nirvana's 1991 hit "Smells Like Teen Spirit" be sung by Kermit the Frog and his pals in last year's The Muppets, starring Jason Segal.
"We got no money from The Muppets; we got nothing," Courtney said at the time. "It made Jason Segal feel special, but Dave knows Kurt wouldn't have wanted to be a Muppet."