NEWS
Courtney Love is Single Again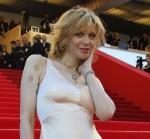 The month of June hasn't been very kind to rocker Courtney Love. Reports are surfacing that Courtney and her British boyfriend art dealer Henry Allsopp have pulled the plug on their relationship. Plus, just last week a small fire broke out in her NYC home. Find out more after the jump!
OK! GALLERY: KURT COBAIN REMEMBERED BY TWITTER ON THE ANNIVERSARY OF HIS DEATH
As reported by MSN Music UK (via Popeater), Courtney moved out of the London home they were co-habitating in. Interestingly enough, Henry is actually the godson of the Duchess of Cornwall, Camilla!
Article continues below advertisement
A source close to Henry told a British paper, The Daily Express, that Courtney quickly moved in with Henry after only a month of meeting Henry last fall. The source noted, "Most of the family were rather alarmed by how besotted he was and feared she had delusions of landing herself a title -- she used to joke about becoming Lady Love."
OK! VIDEO: COURTNEY LOVE TAKES ON LADY GAGA'S "BAD ROMANCE"
As sparks simmered on her relationship, a blaze broke out on Courtney's apartment. Just last week The New York Times reported the fire which was likely started by a candle next to her curtains. Courtney discovered the fire and experienced a light burn on her hand. When firefighters arrived, most of the fire was already put out though one official marked on her burn saying it was "almost like a sunburn."