NEWS
Courtney Love "Steals" Famed Photographer's Car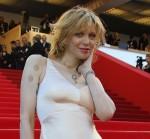 Merely one day after news broke about Courtney Love's break-up, she's making headlines again. Except this time, it's for "stealing" a car!
OK! NEWS: COURTNEY LOVE IS SINGLE AGAIN
Courtney was at the SoHo House in NYC and mentioned she was going to pick up director Brett Rattner and take him to David LaChapelle's exhibition on Monday night. The New York Post reported (via PopEater) that she didn't return, thereby leaving David pretty concerned about his ride! And by that we mean car.
Article continues below advertisement
A SoHo House representative told the newspaper, "Courtney did take his car. David was flipping out and going crazy at the front desk that Courtney stole his car."
OK! VIDEO: COURTNEY LOVE TAKES ON LADY GAGA'S "BAD ROMANCE"
Brett set the record straight and indicated, "Courtney and David are best friends. We were all supposed to go to the Lever House together, but I was too tired. They were on the phone together while she was at my house."
Courtney also added that Brett didn't want to get out of bed so they simply hung out and talked. She told the Post, "We were supposed to go to Lever House and I was dispatched with his car. But Brett didn't want to get out of bed and we ended up talking. David was back at Soho House waiting."