NEWS
COVER STORY: After the Finale — 'Teen Mom' Babies!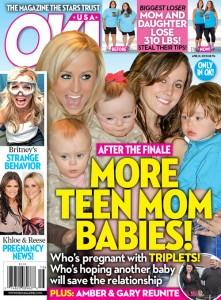 Babies everywhere! Teen Mom 2 might be over, but already there's already more baby news in this week's issue of OK!: Troubled teen mom Jenelle Evans was shocked to hear that her sister, Ashleigh Evans Wilson, is planning to move back home to await the birth of her triplets this fall. For Jenelle, 19, whose recent troubles have left her homeless, Ashleigh's arrival threatens to bring even more drama into her life. "Jenelle's surprised to hear that Ashleigh would want to move back," a friend confides to OK!. "She used to fight with their mother, Barbara, worse than Jenelle does."Plus: Can another baby hold together Leah Messer and Corey Simms? Find out in this week's issue of OK!, on sale everywhere Thursday!
Article continues below advertisement
OK! NEWS: JENELLE EVANS CLAIMS FIGHT INSTIGATOR SOLD VIDEO FOR $45,000
ALSO IN THE NEW ISSUE OF OK!:
Hollywood Babies: The inside scoop on which celebrities are hoping to conceive from Reese Witherspoon and her new hubby Jim Toth, to reality stars Khloe Kardasian and Lamar Odom. Plus, which stars are ready to pop and could another celebrity be expecting baby No. 3?
Britney Spears: After the pop star appeared on Good Morning America to promote her new CD and announce that Enrique Iglesias would be touring with her this summer came the shocking news that he had backed out of the tour. What was the reason behind this decision and did it have to with all of Britney's demands? Will this derail her comeback?
OK! VIDEO: WATCH BRITNEY SPEARS' "TILL THE WORLD ENDS" 30-SECOND TEASER CLIP
MORE ON:
Reese Witherspoon
Article continues below advertisement
The Biggest Loser: The inspiring mother-dauther duo of Courtney and Marci sit down with OK! for an exclusive photo shoot and interview where they talk about their Biggest Loser experience, how their attitude toward food has changed and their weight-loss secret weapons.
Plus:
• Now that Jessica Biel and Justin Timberlake have ended their relationship, he is already heating things up with his new co-star Olivia Wilde. What has drawn this new twosome together? Plus, check out some other new springs flings happening throughout Hollywood.
• Police link the murder of a young Ohio woman to her husband's parents. Could a bitter custody be the driving force behind it all?
• Prince William and Catherine Middleton's big wedding day is inching closer and closer and is looking to be the most expensive wedding ever. Get a close look at the food, flowers and security that will be part of the special day.
• Nutritionist Keri Glassman weighs in on the daily diet of reality star Bethenny Frankel.
• Go behind the velvet rope and see inside the hottest parties of the week!