NEWS
COVER STORY: Brad Pitt to Jen Aniston — I've Been Living a Lie!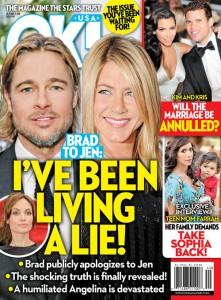 Brad Pitt doesn't give many interviews — and now maybe we know why. After discussing his personal life with Parade magazine, the Moneyball star managed the rare feat of enraging and humiliating both his ex-wife, Jennifer Aniston, and his current partner, Angelina Jolie. "Brad is in deep trouble with both Jen and Angelina" an insider tells OK! in this week's issue, on sale everywhere Thursday!
OK! GALLERY: BRAD PITT & JONAH HILL BRING MONEYBALL HOME TO OAKLAND
Article continues below advertisement
Remember when Jen said Brad was missing "a sensitivity chip"? Apparently, he still hasn't grown one. Here, Jen has finally put their painful divorce behind her and is talking marriage and babies with new love Justin Theroux — and Brad brands her a mindnumbing bore and implies that his whole life with her was a lie.
Was it really mere thoughtlessness? Some insiders believe otherwise — that it's killing Brad to see Jen and Justin mooning like giddy teens.
Article continues below advertisement
OK! GALLERY: JENNIFER ANISTON & JUSTIN THEROUX HEAD OUT HAND IN HAND IN NYC
"Brad's got a real competitive, vicious streak, and I wouldn't be surprised if he's jealous," a Jen pal tells OK!. "Justin is everything Brad couldn't be. He adores Jen; Jen is deeply in love with Justin. And she'd fallen in and out of love with Brad during their marriage.
"Truth be told, they were both bored. Jen saw Brad as a dull stoner. But Justin is a poet and an author and well-educated and amazing."
At first, the public put-down wounded Jen, adds another source: "She was angry and confused. But then it became obvious to her — and everyone else in their world — that he's just envious of how happy she is with her new man."
FOR MORE ON BRAD'S INTERVIEW, JEN'S REACTION AND ANGELINA'S HUMILIATION, PICK UP THE NEW ISSUE OF OK! — ON SALE EVERYWHERE THURSDAY!
ALSO IN THE NEW ISSUE OF OK!:
• Kim and Kris: There are already rumors about cracks in the foundation of Kim Kardashian and Kris Humphries' new marriage — are they headed for an annulment?
Article continues below advertisement
• Lara Marsden: Brad Pitt's assistant: Her racy past revealed. A pal says Lara Marsden flaunts her sexual power over men. Now she's working on Brad!
• George Clooney: Get a look inside George Clooney's new romance with Stacy Keibler, and find out what George's ex, • Elisabetta Canalis, has to say.
• Kirstie Alley: She unveils a hot new bod at fashion week. How she lost 100 pounds and got her svelte figure back.
• 2011 Emmy coverage: OK!'s favorite fashions and moments from TV's big night. Plus: Emmy winner and Modern Family's Julie Bowen gives OK! an exclusive look at how she got gorgeous for the red carpet!
• Countdown: Celebrities need to stay slim — but we wonder if stars like Ali Lohan and Kate Bosworth are really eating enough.
• Fashion: Sarah Jessica Parker's style rules! SJP is back on the scene and looking fab — so we swiped some tips from the über fashionista.