NEWS
COVER STORY — Jessica Simpson: Pregnant & Betrayed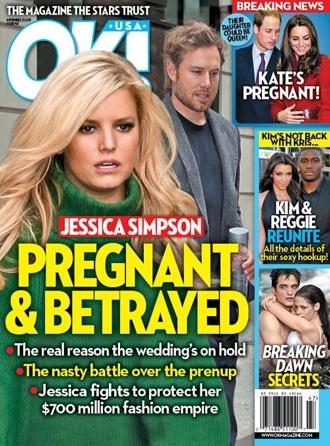 After years of heartbreak and humiliation, Jessica Simpson should be in ecstasy these days. The 31-year-old singer/entrepreneur is fabulously wealthy, of course, with a fashion and music empire worth anywhere from $700 million to $1 billion — and now, to make life complete, she's aglow with her first pregnancy and engaged to a man she deeply loves, former NFL football player Eric Johnson.
The divorce from Nick Lachey, the painful relationships with John Mayer and Tony Romo, the constant, often cruel, media scrutiny of her weight — and everything in between — are far behind her.
Article continues below advertisement
OK! NEWS: JESSICA SIMPSON'S BABY ANXIEYTY — TWINS
Ah, but this is Jessica we're talking about, so even at this life pinnacle, there's something to cause her anguish: Eric, who sources say had agreed to a prenuptial agreement, is now backing out and insisting on an equal share in her fortune — which is why, even as Jess' baby bump burgeons, the couple's wedding plans
are on hold.
"Eric's completely changed his mind," an insider tells OK!. "He started dragging his feet, refusing to sign the prenup they'd drawn up; now he's laying this whole guilt-trip on her about how he believes in true love and she should, too. A lot of people feel she's been totally betrayed."
OK! NEWS: JESSICA SIMPSON DISHES ON HER WEIGHT: "I'M STILL CONFIDENT"
Delaying the wedding while the down-home traditional Jessica is expecting, the insider adds, seems especially callous.
"Eric knows how important it was to her to be married before the baby was born," says the source. "She wanted to rush the wedding so that her child wouldn't be born out of wedlock, and she wouldn't walk down the aisle with this massive bump. And he's basically used that as a bargaining chip."
Article continues below advertisement
FOR MORE ON JESSICA SIMPSON'S WEDDING WOES, PICK UP THE NEW ISSUE OF OK! — ON SALE EVERYWHERE THURSDAY!
ALSO IN THE NEW OK!:
Hot Story: Selena Gomez is standing by Justin Bieber, but isn't really sure what to believe.
Kim Kardashian: Kim's divorce isn't final yet, but insiders say she is seeking comfort with her one-time love, Reggie Bush.
Twilight: OK! Reveals behind-the-scenes secrets from the filming of Breaking Dawn.
Bret Michaels: Bret Michaels talks candidly about his brain tumor and recovery, and what the future holds.
Celebrity Crushes: Justin Timberlake and other celebs reveal their secretcrushes.
Mo' Money, Mo' Problems: OK! Counts down the top 10 celebrities who can't buy their way out of trouble.