NEWS
COVER STORY: Kim Kardashian — Betrayed Before the Wedding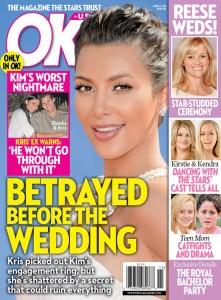 You can feel the drama build to fever pitch: Kim Kardashian is ready to become engaged to basketball star beau Kris Humphries in a matter of days, friends say in this week's issue of OK!. Indeed, Kris is not only shopping for an appropriately humongous diamond to present to his fiancée-to-be — having narrowed the designers down to Neil Lane and Lorraine Schwartz — but he's also picked the date to pop the question.
Article continues below advertisement
"April 8," a longtime pal of Kim's tells OK!. "She's head over heels for him. Whenever you're around them, you see she's just got this smile on her face the whole time — she's glowing. And anytime she leaves, even for a minute, he just acts like a guy completely smitten."
OK! GALLERY: KIM KARDASHIAN & KRIS HUMPHRIES STROLL THROUGH NYC AT DIFFERENT HEIGHTS
But despite all the pretty words and adoring glances, does the incurably romantic Kim know the real Kris? In an OK! exclusive, a close friend of Kris' ex-girlfriend, Bianka Kamber — a Toronto nurse and Kim look-alike he dated for two years, talked marriage with, then dumped without a goodbye — warns that the reality queen may find herself betrayed and heartbroken before she ever walks down the aisle.
FOR THE EXCLUSIVE STORY, PICK UP THE NEW ISSUE OF OK! — ON SALE EVERYWHERE THURSDAY!
ALSO IN THE NEW OK!:
Royal Bridal Beauty: As Kate Middleton and Prince William's nuptial's approach, OK! has the inside scoop on the future Princess' beauty regimen!
Teen Mom: After losing custody of son Jace and getting kicked out of her mother's house, the drama continues for Teen Mom 2's Jenelle. Read about who she's feuding with and the violent fight that's led to even more legal trouble for the tempestuous 19-year-old.
Article continues below advertisement
Dancing With the Stars: OK! exclusively speaks to the dancing stars! Find out secrets from the set from Kendra Wilkinson-Baskett, Kirstie Alley and more!
Kate Gosselin: After a long and public feud with ex-husband Jon Gosselin, reality-TV mom Kate is raising her eight children — and starring on Kate Plus 8 — alone. But could she need her former husband back?
Real Life: An American teaching in Japan, Taylor Anderson helped scores of young children find their families after the recent earthquakes hit — but then the tsunami struck. Read the tragic story of this brave hero.
Celeb Mansions: OK! takes you inside the luxurious homes of the A-list! Visit Brad Pitt and Angelina Jolie's chateau in France, Jennifer Aniston's home in the Hollywood Hills and Madonna's posh NYC townhouse.
Plus:
Britney Spears proves that she's a femme fatale; Drew Barrymore cozies up to a new beau; Eva Longoria gets over her ex; David Beckham and Tom Cruise hang out and OK! remembers Elizabeth Taylor.