NEWS
COVER STORY: Kim Kardashian Files for Divorce — What Really Happened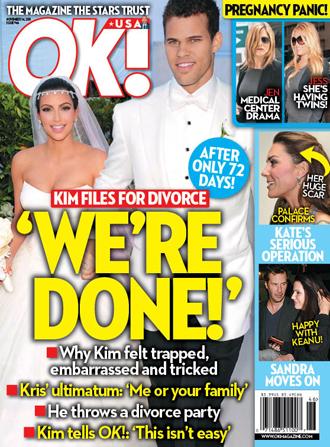 Despite a freak snowstorm, Lavo nightclub in NYC was crowded with happy Halloween revelers when Kim Kardashian walked in at 9:10 p.m. wearing a Poison Ivy costume — but without her usual megawatt grin.
"She looked fragile, sad and barely smiled," says a witness at the Saturday night party. "She didn't seem to be having any fun."
OK! NEWS: KIM KARDASHIAN CONFIRMS KRIS HUMPHRIES DIVORCE — "NOT AN EASY DECISION"
Article continues below advertisement
Instead of being accompanied by her husband, Kris Humphries, Kim was with her longtime friend Jonathan Cheban. Kim "spent most the night texting and sharing those texts with Jonathan," says the witness. "She never even took a sip of her drink."
Two days later, the reason for Kim's unusually dour mood became obvious when she filed for divorce, citing "irreconcilable differences."
"I hope everyone understands this was not an easy decision," Kim said. "I had hoped this marriage was forever, but sometimes things don't work out as planned."
Article continues below advertisement
Even after Kim's legal motion became public that day, to the world Kris seemed to be in denial. "I love my wife and am devastated to learn she filed for divorce," he said in a statement.
"I'm committed to this marriage and everything this covenant represents. I'm willing to do whatever it takes to make it work."
But insiders say he's already throwing several parties to celebrate the divorce.
FOR MORE ON KIM & KRIS' DIVORCE, PICK UP THE NEW ISSUE OF OK! — ON SALE EVERYWHERE THURSDAY!
ALSO IN THE NEW OK!:
Baby Baby: Jessica Simpson frets about twins; Jennifer Aniston and Justin Theroux worry about Jen getting pregnant; Beyoncé eats whatever she wants; Mariah Carey and Nick Cannon double their pleasure.
Duchess Kate: The secret of Duchess Kate's newly revealed scar.
Hot Story: Speed duo Sandra Bullock and Keanu Reeves enjoy a nice slow dinner together at a romantic restaurant.
Rob & Kristen: Robert Pattinson is ready for marriage with onscreen sweetheart Kristen Stewart.
Nick of Time: Nickelodeon stars like Amanda Bynes and Melissa Joan Hart have grown into A-list names before our eyes.
Kirstie & Christina: Kirstie Alley and Christina Aguilera get a head start on digging into holiday feasts.
Prince Harry: Naughty Prince Harry parties like a rock star as he tours America.