NEWS
Vinny Guadagnino Says Kim Kardashian & Kris Humphries "Seemed Fine" Last Time He Saw Them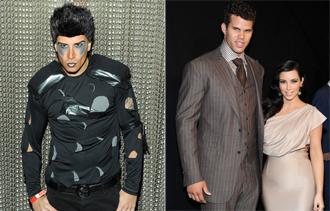 Kim Kardashian's divorce bombshell not only shocked fans yesterday, but rocked Hollywood as well. A number of celebs turned to Twitter to offer their opinions on Kim's 72 day marriage to Kris Humphries.
OK! GALLERY: HEIDI KLUM & SEAL MONKEY AROUND AT HER NYC HALLOWEEN PARTY
Monday at Heidi Klum's Big Apple Halloween Bash, Jersey Shore star Vinny Guadagnino commented on divorce everyone is talking about.
Article continues below advertisement
Vinny has become friendly with Kris, and feels bad about the whole situation.
"I don't know what is going on with that. I heard they got divorced," he told reporters at the event. "They seemed fine last time I'd seen them. I wish them the best of luck. He's a good guy. You know."
So is Vinny on team Kris?
"He's a nice, nice dude," Vinny said, but still remains neutral. "So is Kim, she's very nice."
Amber Rose — dressed as legendary guitarist Slash —also commented on the situation.
OK! NEWS: KIM KARDASHIAN CONFIRMS KRIS HUMPHRIES DIVORCE — "NOT AN EASY DECISION"
"I'm not really the one to judge," she told reporters. "I mean sh** happens you know what I'm saying. You kind of don't know what goes on in people's lives."
As for the rumors that Kim casted her husband for the purpose of her reality TV show, Amber commented, "that would probably suck for him."
She added: "People say a lot of rumors and a lot of mean things so you don't know what's real and whats not. So god bless 'em."
Reporting by Sadie Gennis