NEWS
COVER STORY: Kim Kardashian & Kris Humphries — It's Baby Time!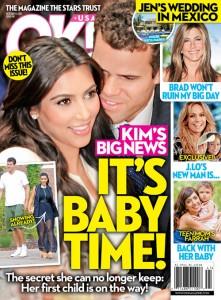 Kim Kardashian has a lot going on: She's newly married to Kris Humphries and still figuring out how to be a Mrs.; she's adjusting to a new town after moving to NYC; and now, there may be another big change. "Kim said she's late," a pal tells OK!. "She was supposed to get her period and didn't." OK! has the scoop in this week's new issue, on sale everywhere Thursday!
VIDEO: WATCH RACHEL ZOE GO BA-NA-NAS OVER KIM KARDASHIAN ON THE RACHEL ZOE PROJECT
Article continues below advertisement
It's a welcome development for the star.
"Kim always thought she'd have several kids by age 30, so in her mind she's behind schedule." says an insider.
In fact, says the source, Kim is doing tons of stuff that makes those around her wonder if she already has a secret. "Kim's been going through all the K names," says the insider. "She even has a baby-name book and looks up the meaning of each one."
But that's not all. OK! also noticed a few of the other reasons why everyone thinks Kim has baby on the way.
FOR OK!'S TELL-TALE SIGNS OF IMPENDING MOTHERHOOD, PICK UP THIS WEEK'S ISSUE OF OK!, ON SALE EVERYWHERE THURSDAY!
ALSO IN THE NEW OK!:
• Jennifer Aniston: How is actress Jennifer Aniston coping with ex-husband Brad Pitt's recent comments about her in the media? Just fine, thanks. She's far too busy planning her wedding, friends say, which will most likely take place in Cabo San Lucas, Mexico. Find out what her previous wedding planner has to say about the best way to plan an intimate beach ceremony!
Article continues below advertisement
• Jennifer Lopez: The never-single superstar has a few contenders for her heart, namely Bradley Cooper and Rodrigo Santoro. But which one does her family prefer? OK! shows how the new guys compare to Jen's look-alike exes, including a timeline of her various romances.
• Teen Mom: The TV season of Teen Mom might have ended, but the drama continues for many of the main cast members. Things look relatively stable for Maci Bookout and Catelynn Lowell, but not so much for Farrah Abraham and Amber Portwood. And Farrah especially has been vacillating, trying to decide if her 2-year-old daughter Sophia is better off with her down in Florida, while she attends school, or with her mother, Debra Danielson, in Iowa.
• Fashion and Beauty: Find out the top three jacket styles you should be sporting this fall, as seen on actresses like Emma Watson; OK! surveys the week's hottest beauty and fashion trends; Stylists show how to achieve the latest pin-staight hair look stars like Gwyneth Paltrow and AnnaLynne McCord are going for.
• Plus: OK! lists the top 10 celebrity wardrobe malfunctions through the years, from stars like Janet Jackson to Nicki Minaj and Leighton Meester; Ever wonder how celebrity look-alikes feel about having a doppelgänger? OK! highlights the similarities between stars like Katy Perry and Zooey Deschanel; How A-listers like Gwen Stefani really stay in such great shape — a fitness rundown from the stars' own personal trainers; Kat Von D and Jesse James break up (again); Justin Bieber shows Selena Gomez a very romantic afternoon and evening; Maria Menounos tells OK! why she plans to freeze her eggs; E!'s Giuliana Rancic dishes on the hottest red-carpet trend this week in Hollywood; And John Travolta pays the Gotti family a visit!