NEWS
COVER STORY: Meet Kendra & Hank's Baby Boy!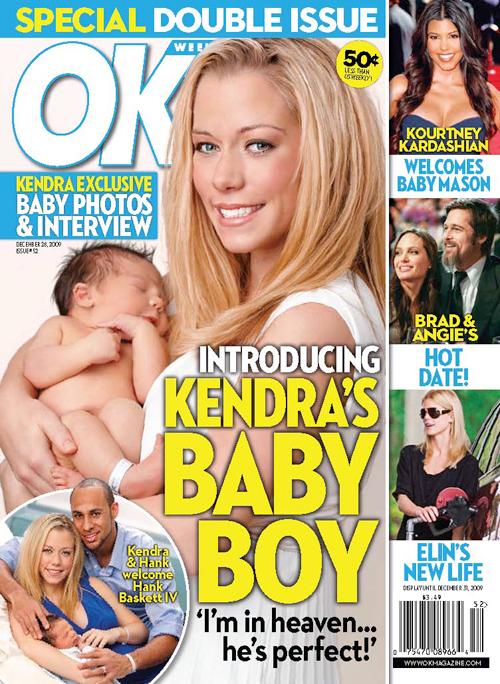 World, meet Hank Randall Baskett IV — newborn son of Kendra Wilkinson Baskett, 24, and her husband, Hank, 27, a wide receiver for the Indianapolis Colts.
After initially planning a natural childbirth, the former Playboy model delivered the couple's first child by C-section at 12:37 a.m. on Dec. 11, 2009, in Carmel, Ind.
"I was just in heaven," the star of E!'s Kendra tells OK!. Echoes Hank, "It was awesome."
Article continues below advertisement
From their room at Clarian North Medical Center, the proud parents, who wed on June 27 at the Playboy Mansion in L.A., opened up to OK! about their big (9 pounds, 5 ounces, and 22 inches!) bundle of joy — only in the new issue of OK!, on sale everywhere Thursday!
Congratulations! How are you feeling?
Kendra: Thanks. I have labor brain. I forgot everything that happened!
Hank: I am in straight awe, trust me.
How did you prepare for coming to the hospital?
Kendra: The good thing about being induced is that it's like planning a trip, just very calm. We ate a huge dinner before we came to the hospital. I ate a whole batch of brownies because I was nervous. No wonder he's 9 pounds!
What happened at the hospital?
Kendra: I was induced early in the morning; then it was wait, wait, wait. I was experiencing contractions throughout the day, and I was anxious. I kept checking the monitor every second, like "Is it happening yet?"
Article continues below advertisement
FOR MORE, CHECK OUT THE NEW ISSUE OF OK! — ON SALE EVERYWHERE THURSDAY!
ALSO IN THIS WEEK'S OK!:
• Jessica Simpson & Billy Corgan step out: OK! broke the news on this fledgling couple, and now they're out and about in public!
• Tiger Woods' wife moves on: How is Elin Nordegren coping with the stress of her husband's alleged affairs?
• Looking back at 2009: From Obama to Oprah and Twilight to Tiger, OK! recaps this year's biggest events in the entertainment world.
• The Biggest Loser's Danny Cahill: The Biggest Loser's most recent winner opens up about shedding 239 pounds and gaining a new lease on life.