NEWS
COVER STORY: The Plan to Get Jennifer Lopez & Ben Affleck Back Together!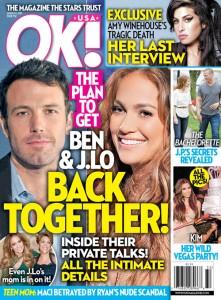 Before Brangelina, there was Bennifer — the meteoric, megawatt, Bronx-meets-Boston romance of Jennifer Lopez and Ben Affleck. Beginning in July 2002, the 16-month whirlwind featured a 6-carat pink diamond engagement ring, worth $1.2 million, and a canceled-at-the-last-minute wedding (on Sept. 14, 2003). Ben and J.Lo broke up in January 2004; just five months later, the diva wed her old music-industry pal Marc Anthony. Now, in the wake of their shocking split — and amid rumors of marital strife between Ben and his wife, Jennifer Garner — some J.Lo pals are wondering:Is the stage set for Bennifer, take two? Find out more in the new issue of OK!.
Article continues below advertisement
So much so, sources say, that she's playing re-matchmaker for the American Idol star and her Oscar-winning actor-writer-director ex.
"She is already trying to plant the seed in Jennifer's brain that she should reach out to Ben as a friend," adds another insider. "Guadalupe knows he's married, and it's not like she's telling her daughter to have an affair. But she's hoping that Ben and J.Lo, who have stayed in touch occasionally over the years, can be there for each other to help ease the pain of divorce. Then, when that period passes, maybe they'll get back together if he's available again. And truth be told, I don't think J.Lo hates the idea, either."
Article continues below advertisement
FOR MORE ON JENNIFER LOPEZ & BEN AFFLECK, PICK UP THIS WEEK'S ISSUE OF OK! — ON SALE EVERYWHERE THURSDAY!
ALSO IN THE NEW ISSUE OF OK!:
• Amy Winehouse: The talented British singer tragically passes away at age 27. OK! has her last interview.
• Kim Kardashian: All the details on Kim Kardashian's wild bachelorette party in Las Vegas!
• The Bachelorette: Find out what made contestant J.P. Rosenbaum a fan favorite on this season of The Bachelorette. Plus, will he win Ashley Hebert's heart?
• Teen Mom: How Ryan Edwards' nude-photo scandal has betrayed Teen Mom's Maci Bookout.
• Fashion and Beauty: OK! shows you how to rock summer dresses like Eva Mendes does. Plus, how to look great and beat the heat in simple summer hairstyles.
Plus: OK! lists the top 10 craziest celebrity breakups; Who's trading up and who's trading down — OK! details the newest loves in stars' lives; Katy Perry faces off with Adele at MTV's Video Music Awards in August; Experts debate whether it's okay to text while walking; Stylist Taylor Jacobsen and actor Keith Powell review a few fashion catastrophes; E! News host Giuliana Rancic dishes on the hottest trends in Hollywood; Actress Melissa Joan Hart reveals to OK! her guilty food pleasures; And Jeremy Piven explains why his young niece thinks he works on a bus!