NEWS
COVER STORY: Rob Tells Oprah — Kristen's Pregnant!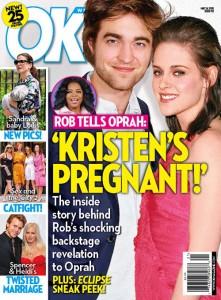 For over a year, Twilight's Robert Pattinson and Kristen Stewart have shrouded their romance in a mystery befitting the stars of a vampire saga.
They've met in shadowy bars, snuck off on secret getaways and sidestepped inquiries from the media about their love life — that is, until Oprah Winfrey started asking questions.
At the May 6 taping of The Oprah Show, she asked them the million dollar question: "Is talk of a relationship true?" Oprah got a doozy of an answer from Rob: "Kristen's pregnant."
Article continues below advertisement
FIND OUT MORE IN THE NEW ISSUE OF OK! — ON SALE EVERYWHERE THURSDAY!
Plus, check out a rundown of the most recent startling confessions from Oprah's celebrity guests and a sneak peek of some scenes from The Twilight Saga: Eclipse.
CHECK OUT TWILIGHT STARS BEING AVATAR-IZED!
ALSO IN OK!:
Spencer Pratt and Heidi Montag: As she plans to get plastic surgery for the 13th time, The Hills' Heidi Montag has her friends and family very concerned. Read about why they blame her publicity-hungry husband, Spencer Pratt, for encouraging her surgeries and why they think Heidi will never leave the relationship.
Kendra Wilkinson Baskett: The former Girl Next Door's family is rallying behind her as she fights to keep her sex tape private. Read her father-in-law's response to the debacle and how her husband, NFL star Hank Baskett, is dealing with it all. Plus, OK! got a detailed description of the sex tape from Steven Hirsch, Vivid Entertainment's Co-CEO.
Article continues below advertisement
Sandra Bullock: It was a special Mother's Day for Sandra Bullock this year. Peruse the latest photos of the new mother and her adopted baby boy, Louis, who spent the weekend together in the baby's hometown of New Orleans.
READ ABOUT SANDRA'S TRIP TO THE BIG EASY!
Reality Star Smackdowns: Niecy Nash has been mocking Kate Gosselin, Kristin Cavallari is battling with Avril Lavigne, Kim Kardashian's mad at her ex Damon Thomas… and the list goes on. Check out this roundup of recent reality show tiffs.
Plus: All is not well with the leading ladies of Sex and the City 2 (some are even calling catfight!); Elin Nordegren might get a custody agreement that allows her to move with her children to Sweden; OK! flashes back to when stars like Salma Hayek and Demi Moore didn't have such perfect manes; Celebrity nutritionist Joy Bauer weighs in on The Celebrity Apprentice's Ivanka Trump's diet; John Frieda's celebrity stylist Harry Josh shows how to achieve Kristin Cavallari and Audrina Patridge's favorite summer hair looks at home; How Rachael Ray dropped two dress sizes without an extreme exercise or diet plan; The best summer shorts for your wardrobe in the latest styles and fabrics; And, lasting impressions with pop star Justin Bieber!