NEWS
COVER STORY: Sandra Bullock & Ryan Reynolds — Yes, They're Together!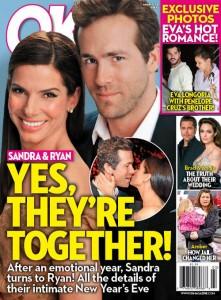 There are no two people in the world more in need of a fresh start than Ryan Reynolds and Sandra Bullock. And on New Year's Eve, they got their wish. It came at the end of a bad year. Sandra and her husband Jesse James' marriage imploded in the spring, and two days before Christmas, Ryan and his wife, Scarlett Johansson, filed for divorce. After much speculation about romance between the longtime friends, the couple started the new year in style — with each other.
Article continues below advertisement
The scene was Sandra's Austin, Texas, restaurant, Bess Bistro, where after a night of dancing, The Proposal co-stars shared a midnight kiss, a champagne toast and left the restaurant together at 2 a.m., according to witnesses.
A source confirms that Sandra, 46, invited the newly single Ryan, 34, and he quickly accepted.
"Sandra planned all along to spend New Year's at the restaurant with friends," says the insider. "And she was thrilled that Ryan accepted her invitation to join in."
They turned to each other in their time of need — Sandra had been talking to heartbroken Ryan on the phone to console him after his recent split from Scarlett. And she obviously has the healing touch.
FOR THE LATEST ON SANDRA & RYAN'S BUDDING RELATIONSHIP — FROM THEIR NYE DATE TO WHAT THE FUTURE HOLDS FOR THE COUPLE — PICK UP THE NEW ISSUE OF OK!, ON SALE EVERYWHERE THURSDAY!
Article continues below advertisement
Also in the new issue of OK!:
Eva Longoria: The Desperate Housewives star is learning how to move on after her split from hubby Tony Parker. She has rebounded with the brother of Penélope Cruz, Eduardo! And he's 10 years younger! Find out how they met. Also, check out other actresses and their younger men loves.
Brad Pitt and Angelina Jolie: Brad and Angie don't need to exchange rings to prove their devotion, the happy couple are just enjoying their busy life. Check out how crazy it really as is as they have taken their family to 10 cities in just one month!
Plus:
Teen Mom's Amber Portwood vows to change after just one night in jail: Will that really happen?; Is Oprah's new network on premium cable going to hurt her career? Did Kelly Osbourne's foulmouthed bashing of her ex go too far? Thoughts on both sides weigh in; Death at the Budweiser mansion as tragedy strikes the young girlfriend of beer heir August Busch IV; How to get Beyoncé's body in 3 weeks, a slimmer Sara Rue goes wedding dressing shopping with OK! and how to eat the foods that you crave and still look good!; The daily diet from actress Shannen Doherty. What does nutritionist Keri Glassman have to say about it?; Natalie Portman is expecting a baby with her Black Swan choreographer fiancé! And Sir Elton John and David Furnish welcome a baby boy into their lives; And all the latest tidbits that the stars are telling OK!.